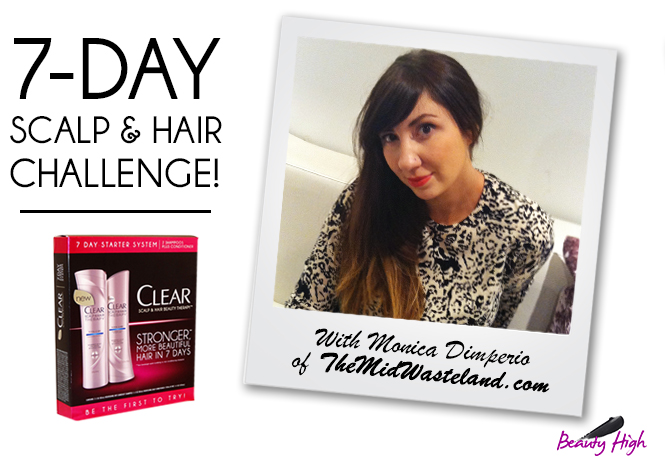 We've teamed up with five of our blogger friends to take on the Clear Scalp & Hair Challenge for stronger and more beautiful hair. Follow them as they each document their need for a major difference in their hair, and the results they experience after using CLEAR SCALP & HAIR BEAUTY THERAPY™  for seven consecutive days! Monica Dimperio is a writer/street style photographer and founder/Editor in Chief of TheMidWasteland.com, a Chicago-based fashion, lifestyle, and culture website. Read on to hear her story!
You know the saying, "Blondes have more fun"? Well, that old adage is not so true for this gal. My natural head of flaxen hair has been there … and to every other color under the sun. After dying my locks for the past 15 years, I've finally settled on a luminous, chocolate-brown shade. I'm in a rare breed of bottle-brunettes but, like Sofia Vergara, I had my "Stella Got Her Groove Back" moment when I went to the dark side. With no plans to turn back any time soon, I'm pretty much married to my colorist. That means, I'm in the salon every four weeks getting touched up. Unlike highlights, if I miss an appointment, the contrasting roots make me look like I'm covering up gray hair instead of the punky-cool ones I had as a platinum blonde. My combination hair is left dry from the constant processing and, even worse, can  fade into a brassy red with all the washing when I use the wrong shampoo, which is why it's important that I care for my color in between salon visits.
My hair has always been a bit of a battle but since I am committed to the brown life, I'm always on the hunt for the perfect hair strengthening care products. That is why I was stoked when CLEAR SCALP & HAIR BEAUTY THERAPY™  asked me to take their 7-Day Scalp & Hair Challenge. For the next seven days my locks are bound to CLEAR Total Care Nourishing Shampoo and Conditioner. Let's hope they live up to their promise and I'll be left with my gorgeous salon color and stronger, more beautiful hair – I'll be reporting back to you with the results!
For more information about our relationship with CLEAR SCALP & HAIR BEAUTY THERAPY™ click here: cmp.ly/3