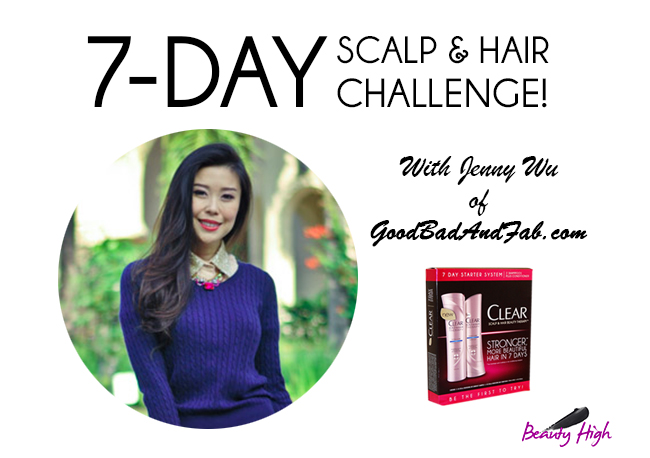 We've teamed up with five of our blogger friends to take on the Clear Scalp & Hair Challenge for stronger and more beautiful hair. Follow them as they each document their need for a major difference in their hair, and the results they experience after using CLEAR SCALP & HAIR BEAUTY THERAPY™ for seven consecutive days! Jenny Wu is a fashion lawyer by day, fashion blogger by night living in Los Angeles. Her blog, GoodBadAndFab.com chronicles her personal style and fashion musings and gives readers a glimpse into life in the fab lane. She was the official guest blogger for Saks Fifth Avenue and her blog has been featured in Lucky Magazine, Glam.com, Teen Vogue, and Fabsugar.com. Make sure to check out her before post here and read on to hear her results!
Forced to wear my hair in a ponytail due to the uncontrollable frizz, I took on the 7 Day Scalp & Hair Challenge in an attempt to tame my dry and static prone winter hair. For the past seven days, I've been using the CLEAR SCALP & HAIR BEAUTY THERAPY™ Damage & Color Repair Nourishing shampoo and conditioner on my dehydrated head of hair. Lightly scented with a hint of lavender and made with an advanced moisture complex of nutrients and minerals, the shampoo lathers well and leaves my hair smelling fresh and feeling clean. On the first day, I followed with the Damage & Color Repair Nourishing Treatment Mask for an extra boost of TLC. After only the first use of the shampoo and conditioner, I was greeted with silky smooth hair that felt soft and nourished to the touch. I was impressed! Even wet, my hair already felt much more hydrated and healthy.
As I started blow drying, I noticed just a few strands protruding out from the sides, a welcoming departure from the usual bride of Frankenstein frizziness I've been sporting. My hair looked healthy and shiny and needed no additional styling products. For the next six days, I repeated the process with the duo. The shampoo and conditioner are non-oily yet effective in softening and moisturizing dry and damaged hair. I'm elated to report that just after seven days of using the CLEAR SCALP & HAIR BEAUTY THERAPY™ products, my hair is mostly frizz-free and silky which means it's time to finally let my hair down!
For more information about our relationship with CLEAR SCALP & HAIR BEAUTY THERAPY™ click here: cmp.ly/3