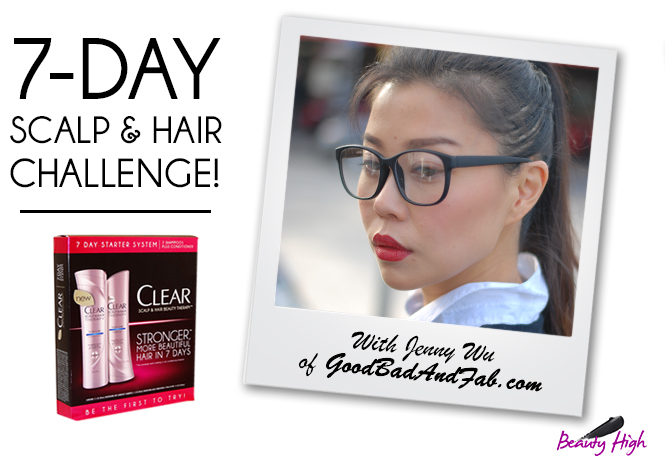 We've teamed up with five of our blogger friends to take on the Clear Scalp & Hair Challenge for stronger and more beautiful hair. Follow them as they each document their need for a major difference in their hair, and the results they experience after using CLEAR SCALP & HAIR BEAUTY THERAPY™ for seven consecutive days! Jenny Wu is a fashion lawyer by day, fashion blogger by night living in Los Angeles. Her blog, GoodBadAndFab.com chronicles her personal style and fashion musings and gives readers a glimpse into life in the fab lane. She was the official guest blogger for Saks Fifth Avenue and her blog has been featured in Lucky Magazine, Glam.com, Teen Vogue, and Fabsugar.com. Read on to hear her story!
I'm having a "There's Something About Mary " hair-raising moment. This winter, my hair has been living in a perpetual state of static and frizz caused by the unusually dry LA weather. I know it's in bad form to complain about West coast winters as we don't have to shovel snow from underneath our cars to go to work every morning, put on ten layers and still feel cold, or experience withdrawal pains from not being able to wear open toe sandals. But, zero precipitation comes with its own set of problems. For me, it means trying (and failing miserably) every imaginable way to style, blow dry, and tame the stubborn locks framing my face that are currently extending straight up into the sky. And even when I do manage to bring it down an inch, contact with articles of clothing like scarves and sweaters takes it right back to its static starting point. My hair has always titled towards the dry side so when dry weather is put into the mix, my head of hair turns into the Sahara desert.
I've officially waved the white flag and have given up on wearing my waist length hair down. To minimize the static, it sits in a high ponytail every single day. How boring! That's why I'm so excited to be taking the CLEAR SCALP & HAIR BEAUTY THERAPY™ 7-Day Scalp & Hair Challenge. I'm hoping daily use of the CLEAR SCALP & HAIR BEAUTY THERAPY™ shampoo and conditioner will nourish the scalp and create the right foundation for beautiful hair that can finally be worn down. I will be circling back with my results so stay tuned!
For more information about our relationship with CLEAR SCALP & HAIR BEAUTY THERAPY™ click here: cmp.ly/3