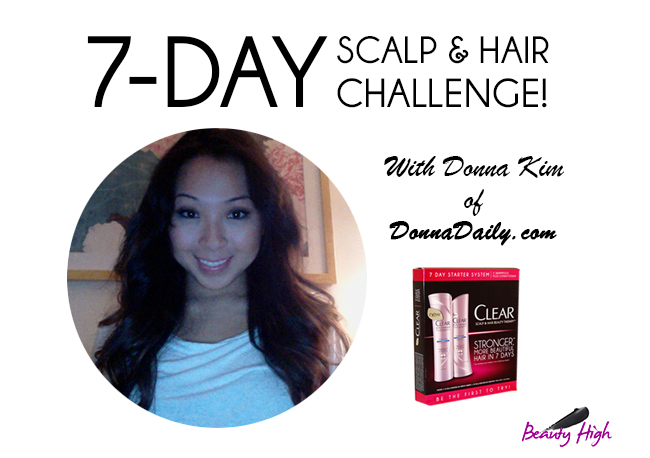 We've teamed up with five of our blogger friends to take on the Clear Scalp & Hair Challenge for stronger and more beautiful hair. Follow them as they each document their need for a major difference in their hair, and the results they experience after using CLEAR SCALP & HAIR BEAUTY THERAPY™ for seven consecutive days! Donna Kim is a multimedia journalist, on-air style expert, makeup artist, and the founder of DonnaDaily.com. Her work and expertise has been featured on many media outlets such as NBC's Today Show, New York Live, QVC, The Village Voice, Bergdorf Goodman's 5th/58th blog, to name a few. Make sure to check out her before post here and read on to hear her results!
I put a lot of heat to my hair and therefore it's more prone to breakage and dryness, plus it gets costly and time consuming to take care of it when hot tools have affected it. What I'll normally do is use a heat protectant spray before I curl my hair and a moisturizing hair spray afterwards. By the end of the day, I'll wash it with a moisturizing shampoo and conditioner duo, but what I wanted to find is a product that would allow me to use less to protect my tresses.
After the first day I started using the CLEAR SCALP & HAIR BEAUTY THERAPY™ Damage & Color Repair Nourishing shampoo and conditioner, I instantly noticed a difference. I always allow my hair to dry naturally because using a blow dryer and setting my hair in curls is just asking for more damage to my ends. When it finally did dry completely, it was significantly smoother than it usually is after a wash. I decided to not play around with my hot tools on it just yet because I wanted to see if there were going to be any further  improvements to my hair throughout the rest of the week.
After each day of use, I definitely saw my hair strengthening like I've never seen before. Usually I would have used a deep conditioning mask once a week to treat my hot tool damaged hair to give it some life, after using the shampoo and conditioner duo, I can confidently say that I may only only need to use a mask once a month. In my last post I mentioned that I love voluminous waves, and you'll rarely see me with pin straight hair. To get the look, my routine used to consist of prepping my hair with a heat activating spray but this go around, I decided to use fewer products and lower heat settings on my hot tools to see how my hair would react. As you can see, it is full of bounce and the curls lasted for many hours without any hairspray! I was seriously shocked to see how long my hair lasted. I highly recommend the Damage & Color Repair Nourishing shampoo and conditioner as a new alternative to your hair routine.
For more information about our relationship with CLEAR SCALP & HAIR BEAUTY THERAPY™ click here: cmp.ly/3