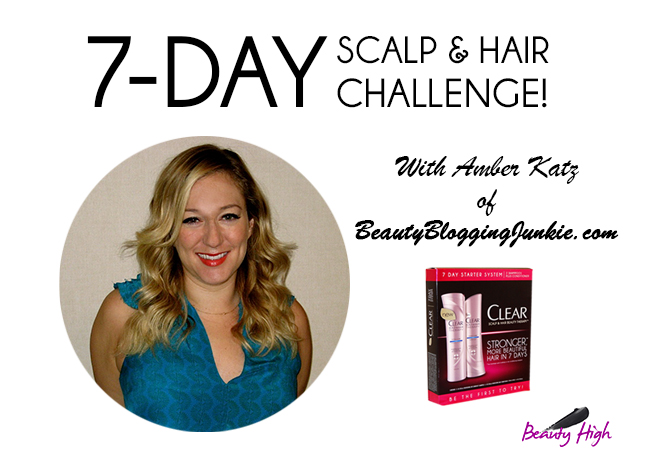 We've teamed up with five of our blogger friends to take on the Clear Scalp & Hair Challenge for stronger and more beautiful hair. Follow them as they each document their need for a major difference in their hair, and the results they experience after using CLEAR SCALP & HAIR BEAUTY THERAPY™  for seven consecutive days! Amber Katz  is the founder and writer of BeautyBloggingJunkie.com. She also contributes to pop culture articles regularly, was a community expert on Philips' Crystalize skin care website, and has written for Vogue, Cosmopolitan, Nylon, instyle.com, and the now defunct Girlfriend Getaways. Make sure to check out her before post here and read on to hear her results!
I've been taking hair-growth supplements for the last year to help my hair grow long, and my goal was to find a shampoo and conditioner that would help me extend my blowout beyond 24 hours. A week of cleansing, conditioning, and treating with CLEAR SCALP & HAIR BEAUTY THERAPY™ Damage and Color Repair products has left my fairly damaged hair looking and feeling amazing. Previously, that was difficult, as the hair-growth vitamins worked well regarding my length, but at the expense of a bit of oiliness. I also put my locks through the ringer, heat-styling it every couple of days and drying out my ends with ombre highlights (which I'm loving, for the record—they just dry out my hair a little more, so it needs extra moisturizing). The results? Soft, voluminous, and shiny, and doesn't get greasy for a full 48+ hours, which is much longer than I can extend a blowout with my hair-growth supplements I take nightly. Even the pleasant smell of the shampoo lingers long after 24 hours after cleansing; a feat that's rare in the hair care world.
I'm a firm believer that if you want volume, you have to start with the right products in the wet phase, i.e., in the shower. The combo yields a sort of aerated effect on your roots which serves to infuse them with a bit of oomph, in addition to zapping them of the dreaded oiliness that ensues after 24 hours post-washing. It manages to do this without dehydrating my fragile ends, which have been highlighted. The Damage and Color Repair Conditioner seals my ends and gives me a good base from which to heat style after I get out of the shower. It's especially nourishing, which I love, as I'm in the process of growing out my hair and am skipping my regular trims.
#TeamRapunzel, here I come.
For more information about our relationship with CLEAR SCALP & HAIR BEAUTY THERAPY™ click here: cmp.ly/3