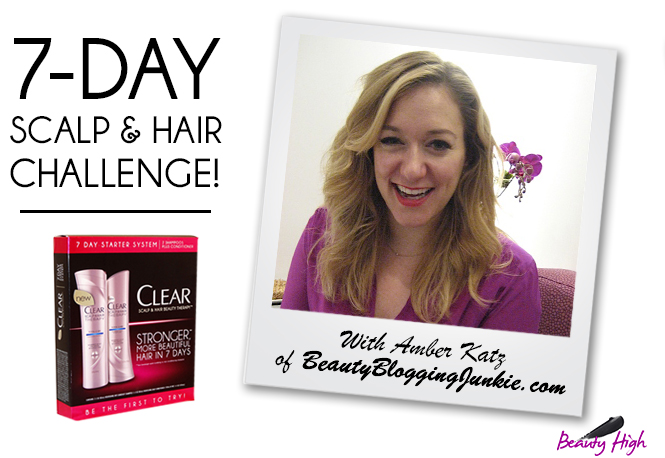 We've teamed up with five of our blogger friends to take on the Clear Scalp & Hair Challenge for stronger and more beautiful hair. Follow them as they each document their need for a major difference in their hair, and the results they experience after using CLEAR SCALP & HAIR BEAUTY THERAPY™  for seven consecutive days! Amber Katz  is the founder and writer of BeautyBloggingJunkie.com. She also contributes to pop culture articles regularly, was a community expert on Philips' Crystalize skin care website, and has written for Vogue, Cosmopolitan, Nylon, instyle.com, and the now defunctGirlfriend Getaways. Read on to hear her story!
For the past year, I've been taking supplements to get my hair to finally grow long. It's been a lifelong battle for me to get my always just-past-shoulder-length mane to blow past its plateau, as I highlight it and heat-style it every other day. The supplements intercepted my hair's breaking point in the manner of Tom Brady and have finally helped me achieve my dream of having hair to my bra strap.
But it's not all kittens and roses (though honestly, it mostly is, because I'm on my way to having hair as long as the girl from Poltergeist's, a long-time goal). The supplements help my hair grow faster, but an unfortunate side-effect is that they also make it much more oily. It's great from a hydration standpoint–moisturized hair is less brittle and less likely to break off before it makes it past my shoulders. But from a greaseball standpoint, I'm less pleased. My hair formerly needed to be washed every other day and now, once 48 hours has gone by, forget it. I've had to up my washings to every day and even at the end of the night, I feel like my hair could use a little recharging.
So I'm embarking on this journey with CLEAR SCALP & HAIR BEAUTY THERAPY™ because I know that taking care of my scalp is key to being the very best hair farmer I can, but also because their formulas are great for hair that tends to be oily. I'm hoping I'll be able to extend my blowouts back to every other day while maintaining my hair's health. Stay tuned as I test out the Damage & Color Repair line in my pursuit of Rapunzel locks!
For more information about our relationship with CLEAR SCALP & HAIR BEAUTY THERAPY™ click here: cmp.ly/3