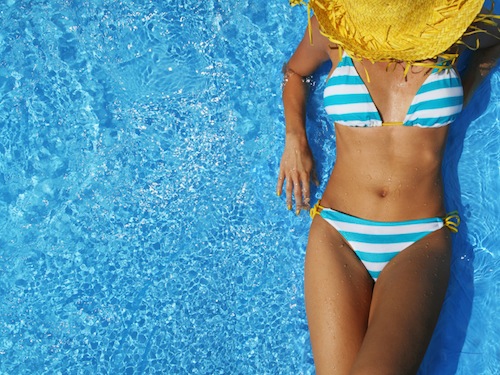 Dear Beauty Banter,
I got a spray tan last week and it faded pretty quickly. I 'm getting another in two weeks, but I want to make this one last longer. What can I do to make my next spray tan last longer?
Sincerely,
Crystal in AZ
Dear Crystal,
The first step in maintaining your gorgeous spray tan starts before you even get sprayed! Do a little homework! Prior to your spray tan application ask the salon how much alcohol is in the product they use or ask to see the ingredient listing. Note where alcohol is listed on the label and that it is not the second or third listed ingredient. Alcohol tends to cause excessive dryness and cracking and as a result, you can end up with unsightly "alligator-ish" skin a few days into your tan.
Here are some other things you can do after you get sprayed:
When you shower make sure you pat dry your skin after a shower instead of rubbing. On the days following your spray tan application put on a very light moisturizer to keep the skin hydrated but avoid extremely heavy lotions.
Make sure to avoid hot tubs for an extended period of time, since chlorine tends to bleach the skin, thus lightening your tan prematurely.
About four days after your spray tan, start gently exfoliating your body with body exfoliating gloves so the color fades more evenly.
The last step to extending the life span of your spray tan is to use a gradual tanner to maintain your color for a few extra days.
Sincerely,
Sinead Norenius
Sinead Norenius is a sixteen year beauty industry veteran and licensed esthetician who founded and formulated Beautisol. She is committed to educating consumers about beauty through social media, online how to videos and step by step simple directions for all of the Beautisol products. She is a member of the National Coalition of Estheticians, Manufacturers, Distributors and Associations (NCEO) and has worked with beauty lines including True Cosmetics and Parisian based LEspace.
Image: istock.com