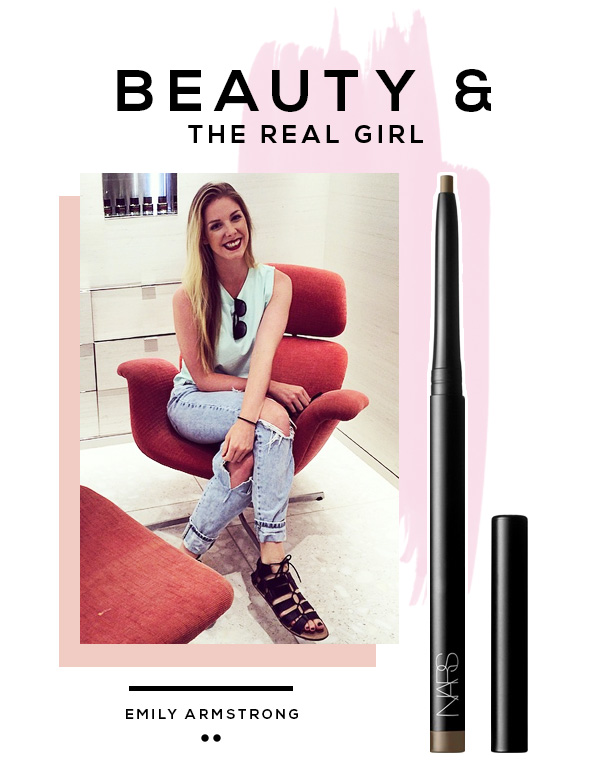 Going backstage and learning tips and tricks from the professionals may be an adventure, but sometimes, the best tricks come from real girls. In "Beauty and the Real Girl," we learn the best beauty tips, tricks and secrets from girls just like us.
Excuse the pun, but learning how to properly fill out your eyebrows is a defining moment, indeed. Bold brows frame your face and draw attention to your other facial features—and thanks to a certain runway model, they've made their impact as one of the trendiest beauty staples of today. Once you get it right, you never look back. But getting your brows to that standout yet shapely state isn't as easy as growing out your hair. If you think about the thousands of products on the market, (gels, pencils, powders, and more) as well as finding the right match for your hair color, the process can get confusing.
So when it comes to brows, we take all the recommendations we can get. Emily Armstrong, a graphic designer who knows the importance of detail, found an eyebrow pencil that forever changed her beauty game and gave her the striking brows of her dreams. Take a look at her shopping suggestion below.
MORE: 10 Problems Only Girls With Blonde Eyebrows Get
"Since I'm blonde, it has always been a struggle to grow standout eyebrows. Now that Cara Delevingne-like eyebrows are trendy, I thought it was important to reconsider my eyebrow game. I love this pencil from NARS. The product lasts me several months and helps me achieve the shapelier look I've always sought."
(Where to Buy: NARS Brow Perfector, $22, narscosmetics.com)