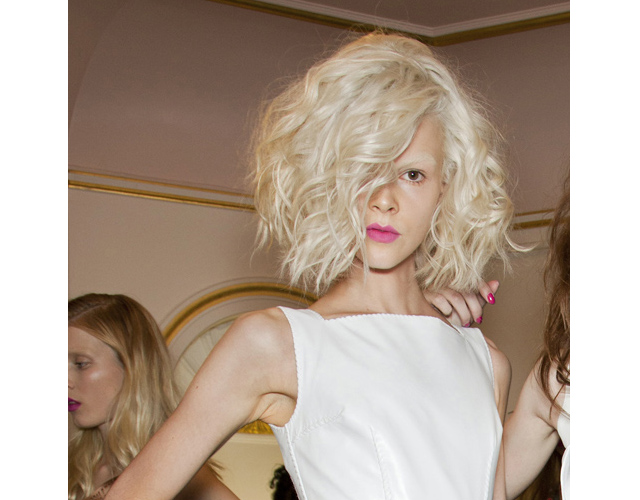 As a long time addict to hair dye, I have been every color under the sun. We're talking blonde, brown, blue and purple dip-dye, strawberry blonde and an unfortunate orange in between. Throughout all of these transitions, I've somehow maintained my hair's health, in large part to skilled hairstylists and great products, but I've also picked up some pretty fantastic tips along the way. This past weekend I finally went after my hair dream and dyed my strands platinum – something I had been lusting after for months (maybe years) and just hadn't quite built up the courage to do yet.
Perhaps I was worried about the damage, or maybe that my skin tone wouldn't pair well with the bright shade, but whatever it was my colorist, Zoe Wiepert of Bumble and bumble put my fears at ease and taught me quite a few tips on how to do platinum the right way (so obviously I had to share). Whether you're already a blonde (like I was) or going from a dark shade to a platinum hue, these tips will work for you.
Going platinum involves a double process, which entails a whole lot of stripping of your hair color. Make sure your roots are the last thing that your colorist touches to avoid breakage at the root. Zoe worked the color in small sections along my entire head leaving the roots out and then went back and covered the roots at the very end.
No matter what your natural hair color is, Zoe says anyone can go platinum. It really just depends on what tone you want as the end result. For instance, if you want your hair to have a "silvery" tone to it make sure your skin tone works well with ashy colors; if you want more pink undertones your skin should have a warmer base. The longest part of the process is to get your initial platinum tone – then you can play around with your desired added hues (I was after a silvery look, referenced in the inspiration photo above).
Don't wash your hair for 24-48 hours after you dye it. This will help it to not only keep the tone but also to keep it from drying out.
To prevent breakage, use a mask once a week and take advantage of hair oils daily – especially if you're going to heat style (which should be kept to a minimum if possible).
Finally, to maintain the color and avoid brassiness, use a violet/silver shampoo once a week, like Matrix So Silver to help with any fading.
[Image via Imaxtree]