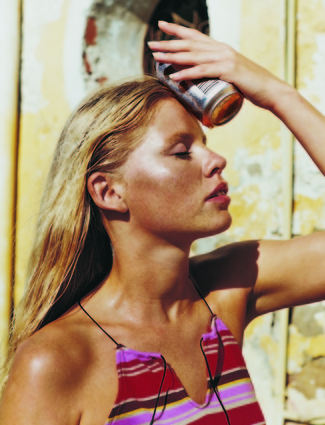 The weather is hot right now, and we're all a bit of a sweaty mess, but for those with oil-prone skin, summer can be particularly disastrous. It is possible to beat the steamy heat and look fresh all day long. The key is in using the right products in the right places to control oil and shine and keep makeup in place.
First apply an oil-free moisturizer that contains sunscreen and allow a few minutes for it to really sink in to your skin. I like Neutrogena Oil-Free Moisturizer SPF 35 ($9.99, Ulta.com) for an inexpensive way to stay hydrated and protected, not greasy. Next apply a mattifying gel to the skin, including the eyelids, to help control any oil slicks that might show up in the heat. I'm currently loving the OC Eight Mattifying Gel ($36.90, Dermstore.com), and I suggest not only applying it on the face but also under breasts and down the cleavage for extra sweat-control.
To cover up imperfections, use a waterproof foundation like Makeup Forever Face & Body Foundation ($40, Sephora.com) and dust on a light and sheer powder to set the makeup. I only use Mac Blot Powder ($23, Maccosmetics.com) as it stays fresh on the skin all day and never adds a cakey layer. Use blotting papers throughout the day, like Clean & Clear Oil Absorbing Sheets ($5.49, Drugstore.com), to absorb excess shine. I wrap mine around a sponge and dab my face to have better control.
Lastly, apply waterproof eyeliner and mascara and stay away from cream eye shadow and blush. They will just slide around on the skin. Use sheer powders instead, which will stay put and not crease. So no sweaty worries, my hot lovelies! It's really about layering the right formulas so everything stays in place.
As an established makeup artist, many beauty brands send me samples of their latest products for consideration. I only write about the items that I truly love and I always abide by Daily Makeover's Editorial Ethics Pledge in each of my Positively Beautiful posts.