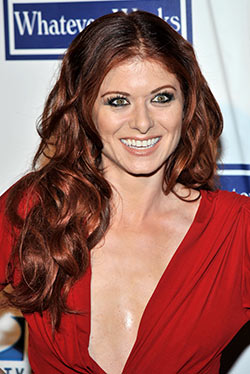 Soft waves like Debra Messing's are the
best style for hot summer days.
Photo: RD/Dziekan/Retna Digital
I've been a busy "bee" these past few weeks! After my styling session with the lovely Jadyn Maria, I hopped a plane to head to a Burt's Bees advertising shoot in Miami. My plane landed at 1:30 in the morning and I was so exhausted! I managed to get about three hours of sleep and then had to be to the shoot at 7:00 a.m. The fashion world is so glamorous sometimes.
The campaign was for the brand's new Natural Acne Solutions line and I had three models to work with on the two-day shoot. Everything was done outside and it was so hot!
Because of the heat, I really had to work hard to tame the frizzies and fight the humidity so that the girls' hair looked great. In that type of weather I always choose to create waves — humidity makes hair swell and frizz, so if you straighten your hair you are fighting a losing battle.
My first model had extra-long hair, so I used Tame It Shine Lotion to calm her frizz and then used a medium barreled curling iron to create soft, beachy waves. Beautiful Hold Hairspray kept her waves in place.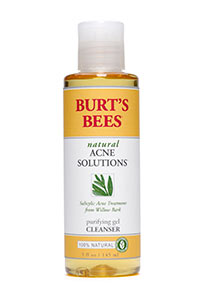 This cleanser from the new
Burt's Bees acne line is fab!
Model number two had short, straight hair. I had wanted to keep her hair straight but the heat just wasn't cooperating, so I gave her a soft wave as well. I side-parted her hair then used Hair Sheet Styling to calm flyaways and protect her hair from the sun. It's very important if you are out in the sun to use a product with UV protection on you hair — if you don't you could end up with faded color and dry, straw-like strands.
The last model had straight, shoulder-length hair, so I gave her hair a slight wave and put it up in a ponytail to make it look casual and chic.
Here's a top secret insider trick: mixing products together will almost always give you a better effect than layering them. I combined Hair Sheet Styling with Fix It Gel to help seal the cuticle and tame flyaways. This is great for fine hair because you technically are only applying product once; when you layer products it can weigh hair down and won't be as effective at conquering frizz.
Remember, Beauty Is Individual!
As a celebrity hairstylist, I often receive samples of new products directly from beauty brands to test out. Any product I mention in this blog is one that I've tested out myself, in accordance with Daily Makeover's Editorial Ethics Pledge.