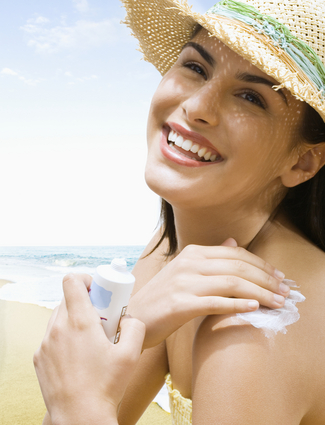 I'm a California girl, born and raised, so naturally, the beach is my favorite place in the world. Now that summer is here, I'm so excited to create a sun-safe, boho-chic beach environment. I figure, since you are spending the whole day there, you might as well make is as comfortable as possible! Here's what I take: a printed Indian cotton beach quilt, a Balinese bamboo seashell adorned umbrella, extra large beach towels from Calypso Home, a big floppy hat from Eugenia Kim, canvas printed beach bags from Hable Construction, throw pillows my mom made with Batik fabrics from Indonesia, my trusty paddleboard, a small cooler for drinks, and some beauty products.
As a makeup artist and beauty expert, I'm fully aware of sun dangers and make sure to stay uber-protected. I'm fair and am prone to malasma if I'm in the sun too long, so I keep my hat and shades on, sit under the umbrella and slather on my favorite sunscreen, which is the SkinCeuticals UV Sport Defense SPF 45 ($38, Skinstore.com). I keep this in the cooler, so it's refreshing when I reapply. Other products I keep in the cooler in a waterproof bag include Kiehl's Ultra Moisturizing Eye Stick SPF 30 ($20, Kiehls.com) to protect my eyes– this sting-free stick glides on cooler when chilled, which helps with de-puffing. My Fresh Sugar Lip Treatment in Rose ($22.50, Fresh.com) is tossed in there, too, so it doesn't melt. In my beach bag I keep Karastase Huile Celeste Shimmering Protective Mist For Sun Exposed Hair ($39, Kerastase-usa.com). It's an absolute fave for very dry hair, because shimmering mist acts as a sunscreen for hair, leaving it conditioned and sparkling. When I paddleboard, I throw on my XCEL UV Protection UPF 50+ long sleeve surf shirt over my bikini top and keep my hat and shades on. This way I don't get hit with the reflection of the sun's harsh rays bouncing off the water.
So you see, you can still enjoy an entire day at the beach and keep your skin fully protected at the same time.
As an established makeup artist, many beauty brands send me samples of their latest products for consideration. I only write about the items that I truly love and I always abide by Daily Makeover's Editorial Ethics Pledge in each of my Positively Beautiful posts.