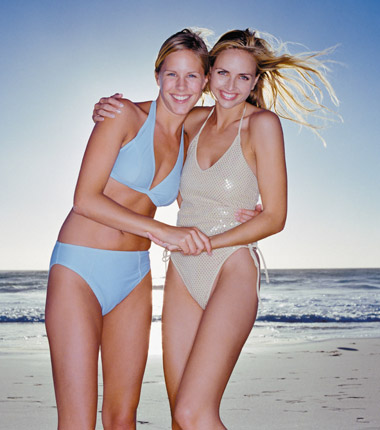 If there's one place where it's hard to hide your less-than-perfect parts, it's the beach. When the clothing is minimal, your flaws have nowhere to hide. Fortunately, there are some sneaky ways you can camouflage imperfections, without undergoing a total body overhaul. We spoke to the pros to get their tips on how you can make your bod look its best at the beach.
Get Prepped
Don't let cellulite or stretch marks get you down. According to Catherine Raubiet, the national training director for Lierac, there are some simple things you can do to camouflage them. First, exfoliate your body to get it ready for treatments and eliminate skin-dulling dead cells. Finish your shower with cold water to tone and energize skin. Apply a cellulite cream like Lierac Morpho-Slim Anti-Cellulite Concentrate for a firming boost. Finish up with a moisturizer to make skin look healthy and radiant.
Find A Bathing Suit That Flatters Your Body
While bathing suits are usually quite skimpy, there are ways to make them work to your advantage. The trick is knowing what you want to flaunt and what needs to be covered up "Every woman's body is different, so it's important to make sure you find a bathing suit that's right for your body type," says swimsuit designer Shoshanna Lonstein Gruss.
To camouflage a tummy, find a suit with ruching that acts like a suction cup-it holds you in place and conceals your mid-section.
Tiny floral print or patterned suits will also help camouflage your middle, and look for halter top styles, as they draw the eyes upward, showing off your collar bone.
If you are a little more mindful of your backside, make sure your bottom is fully covered. Some hardware or decorations on the sides can also draw attention away from your bottom.
(Fake!) Tan Your Troubles Away
It's true: Everything looks better bronzed. "A self tanner will camouflage imperfections like cellulite and wrinkles, and give you a nice healthy glow," says Raubiet. Apply your self tanner evenly across the face and body in long, swiping motions to ensure non-streaky coverage.
Fuel Your Bod
We know those funnel cakes are tempting, but stay away from greasy boardwalk food when you're rocking a swimsuit. Salty, high-fat foods are a one-way ticket to bloating and the last thing you need when you're wearing minimal clothing. Instead, Raubiet suggests bringing along some healthy snacks like fruits, veggies and almonds–they'll help you feel full and give you the energy you need to last from sun-up to sunset. Don't forget to drink lots of water before, during and after the beach to keep your body hydrated and your skin glowing.
Get In Line
It doesn't matter how cute your bathing suit is–if your bikini line is out of control, that's all people are going to notice. Bikini line maintenance is notoriously difficult since most regular razors aren't designed to fit that tricky area. Gruss is a fan of the Venus Bikini Kit because it includes a specially shaped trimmer that's perfect for getting those hard-to-reach hairs. Ward off any razor bumps with a cooling after-shave lotion and your down-there will be ready to bare!
As one of the web's largest beauty sites, DailyMakeover.com constantly receives products from beauty companies for editorial review. Please read our Editorial Ethics Pledge if you'd like to know how we select products to feature.