BB creams are like a magic potion in a bottle for every skincare need — from coverage to hydration to SPF. Then came CC creams that added anti-aging benefits to the mix. So when BB and CC creams for hair emerged on the scene, we couldn't contain ourselves. But can one cream work as both a styling product and treatment?
After testing a few BB's we've come to the conclusion: yes and no. They're proven frizz-fighters, either by penetrating through the hair shaft or through hydration, but the actual result really depends on your hair's texture. Similar to skin, it really all depends on your hair type. If your hair is dry, you may need to pair the product with an oil to add moisture. If you have very oily hair, you may need to add a bit of dry shampoo on your roots. Bottom line: BB and CC creams might not be the only hair product you need, but they do address multiple issues — just like their skincare counterparts.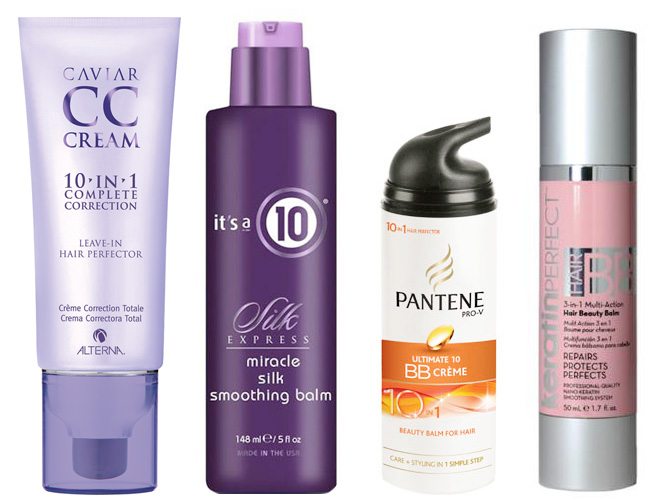 Multi-Taskers To Try
Pantene Pro-V Ultimate 10 BB Créme ($5.99, pantene.com)
Don't let the bottle fool you — it's not a mousse. The light cream, which can be used on wet or dry hair, claims to do it all: repair rough hair, strengthen, soften, create shine, smooth, hydrate, de-frizz, protect against heat, create manageability and tame flyaways.
Alterna Caviar CC Cream 10-in-1 Complete Correction ($25, sephora.com)
This leave-in treatment provides all of the same benefits as Pantene's BB, but contains caviar extract, Alterna's signature ingredient. The amino acids and omega-3 fatty acids smooth the hair shaft and boost shine.
Keratin Perfect 1-in-1 Hair BB Multi-Action Beauty Balm ($28, keratinperfect.com)
This defrizzer should be in your tool box this summer for smoother, hydrated strands. Not only does the serum/cream/oil hybrid smooth the hair's texture instantly, but the keratin molecules penetrate into the hair's cuticle for long-lasting effects.
It's a 10 Hair Care Miracle Silk Smoothing Balm ($19.99, itsa10haircare.com)
Not only does this balm add a smooth, frizz-free finish, but it builds volume at the roots and its red raspberry seed oil protects against sun damage.
Read more: 4 Tricks To Prevent Split Ends