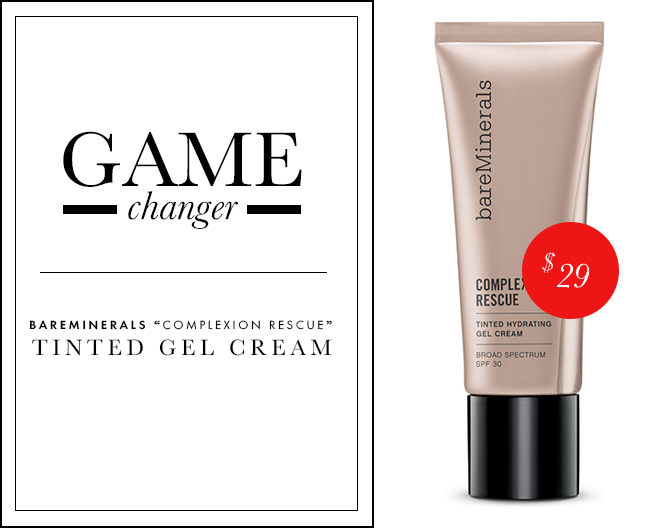 I'll never use classic foundation—it leaves the skin parched, and oftentimes flaking, especially during this time of year. While tinted moisturizers and BB creams are an obvious favorite, they never provide the kind of hydration I need—I always layer a creamy moisturizer underneath and think of the BB as an added bonus. Evidently, BareMinerals heard my pain (and the complaints of plenty of other women, with a survey to prove it!), and came up with a new coverup that provides the perfect amount of coverage and hydration.
Complexion Rescue Tinted Hydrating Gel Cream ($29, bareescentuals.com), which just hit the market, works unlike any other tinted moisturizer because it was first formulated as a skin care product. While most formulas claim to offer makeup and skin care benefits, they skimp out on the skin care, adding just a touch of oil and water into the formula and calling it "moisturizing." This new gel cream was created first as a moisturizer with humectants, antioxidants, and electrolytes at the heart of the formulation, adding the pigment after. However, BareMinerals didn't stop there—they went above and beyond with the color, too. Available in ten shades, the formula blends seamlessly into skin and offers medium coverage, so you won't need much else but a dab of concealer on blemishes.
Even on the coldest of days I've been skipping my moisturizer and just smoothing on the gel cream solo for a smooth, hydrated finish. It adds such a rich, dewy glow, you'd think it were summer.
Read more: Instant Makeover: The Almost-There BB Cream That Makes You Look Flawless