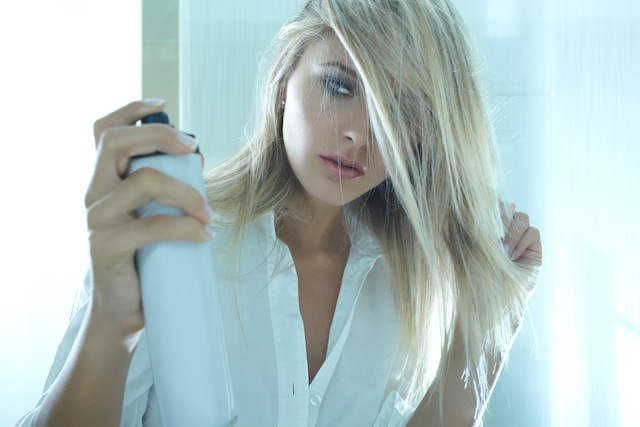 It's the absolute worst – you make hot plans for after work only to discover your head looks like it's had an altercation with a can of oil. How do you banish that oil quickly – when an emergency blowout simply isn't a viable option? Since clearly we can't go on living this way with our busy schedules, we called in the experts to help us find a solution, fast.
Use a powder product to soak up the oil like dry shampoo and baby powder.  "I recommend Redken Powder Refresh, but if it's not easily on hand, a bit of baby powder does the trick," says Timothy Wandrey, Director of Salon Education and Stylist for Cutler Salon. If you use any spray dry shampoo, be sure to spray from far away from your head – a little bit goes a long way, you don't want to end up with white roots. Same goes if you are using baby powder. Less is more.
 You can brush your hair or alternately "rake" your fingers through your hair when using powder products.  "This will help distribute the product through the scalp and soak up any excess oil. It also helps to distribute any white coloration," says Wandrey.
 Stay away from hair styles with a part.  Greasy hair is a lot like having grown out roots; the more obvious the parting, the more obvious your dirty hair.  "A loose, tied back knot or top knot is an easy solution. No matter what, don't touch your hair too much – it adds to the oiliness," says Wandrey.
 When it comes to choosing a style, go for a style with movement. "Having poker straight flat hair will only emphasize the problem and you will have to shampoo more often," says  British celebrity hairstylist Mark Hill. Styles with body, bounce and movement will keep your hair away from your scalp and give life to your style. Revamp you style in between shampoos with a spritz of dry shampoo.
Photo via Gruizza/Vetta