All through January, our special Makeover Month series is here to inspire you to update your look — whether it's a tiny tweak or a major beauty overhaul. Let's get this makeover started!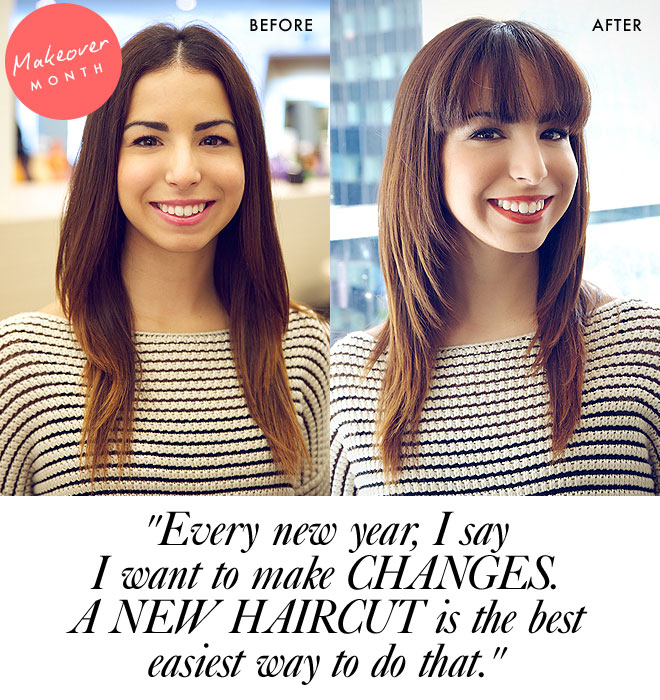 "Every new year, I say I want to make changes," said Lisa, our latest makeover subject. "A new haircut is the best, easiest way to do that." For 2013, the 24-year-old graduate student wanted to switch up her center-parted style without sacrificing her hair's length. Our solution? Bangs, which would let Lisa keep her long layers but still totally transform her look. So we sent her to NYC's Rita Hazan Salon for a scissor session and makeup refresh — with seriously gorgeous results.
Before the big cut, makeup artist Sandy Linter (for Lancôme) tweaked Lisa's makeup to help her make the most of her features. "Bangs bring more attention to the eyes," Sandy explained, and Lisa's black liquid liner had the tendency to make her eyes look smaller. So Sandy switched out the graphic line for diffused dark brown shadow, which she extended outward from Lisa's lids. She made Lisa's lips pop with an orange-red lipstick. "It looks good with her hair, and the color is a little unexpected."
After makeup, Lisa was off to stylist Nelson Vercher's chair. Nelson started off by blowing out Lisa's hair, then he trimmed her ends while her hair was dry to detail the shape.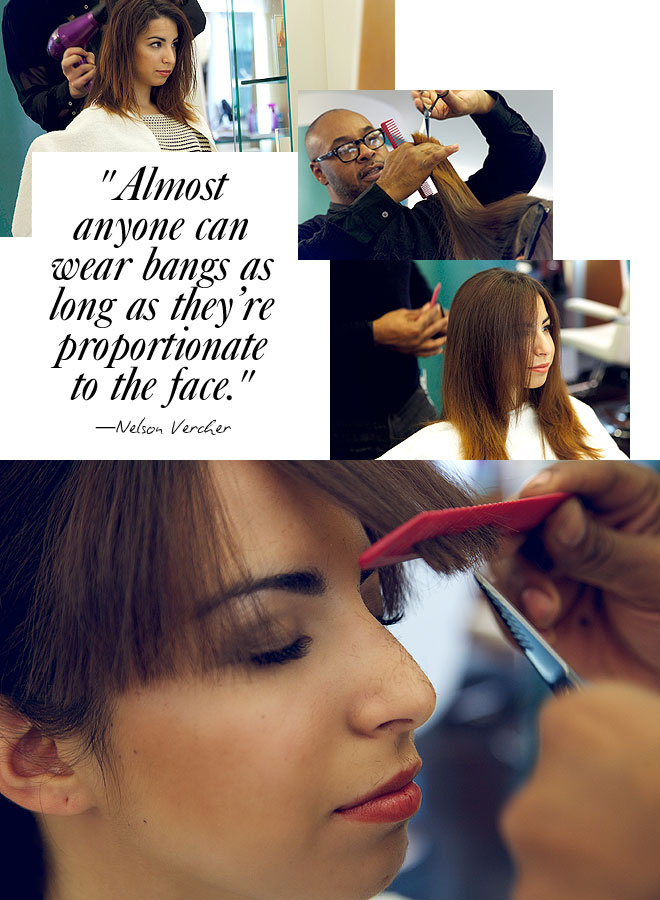 Finally, it was time for Lisa's big bang moment. Nelson sectioned off a triangle of hair from temple to temple, then trimmed the hair little by little until both he and Lisa were happy with the length. "Almost anyone can wear bangs as long as they're proportionate to the face," Nelson explained. "She has a small face, so she has more options. You can do wide across the forehead for a graphic strong look, or shorter in the center and longer on the sides for a more Brigitte Bardot, softer look."
And Lisa's take on her new bangs? "My boyfriend, friends, and family love them! I've gotten such positive feedback saying they make me look more sophisticated," she said. "I was a little iffy about wearing my hair in a ponytail or a top knot with bangs, but those are actually the looks I'm starting to love!"
Read more: Real Girl, Real Makeover: "I Went Red!"
Credits:
Photos: Patrick Biesemans
Bangs, Style and Cut: Andre Rodman at Rita Hazan Salon
Makeup: Sandy Linter for Lancôme at Rita Hazan Salon