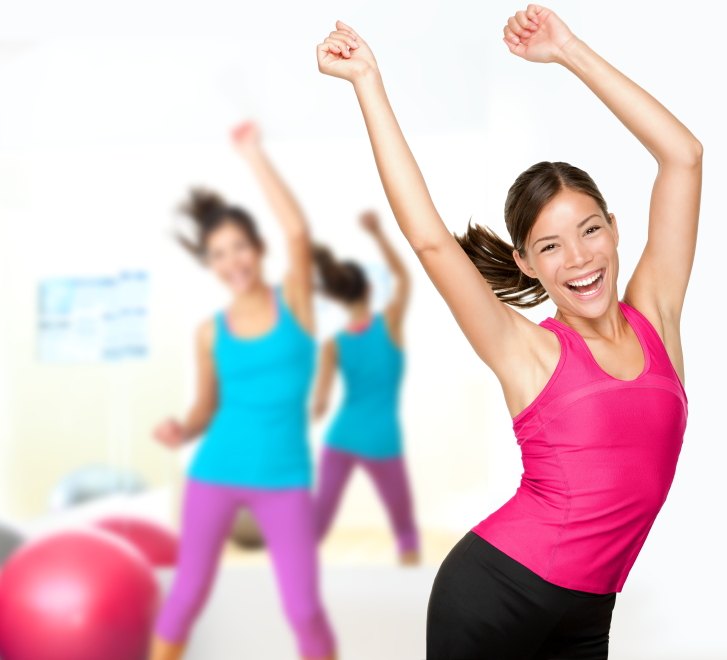 If you're one of those women who can wake up every morning at the crack of dawn to get to your pilates/jazzercise/yoga class before work, we commend you. We're all for working out and being as enthusiastic as the woman pictured above. But we know we're not alone when we say that often times, we forgo a workout to keep our hair looking good for a bit longer. According to research by Dove Hair Care, 1 in 3 women will skip a shower or workout to preserve their hairstyle. If you want to work out every day, you have to wash your hair every day. If you wash your hair every day, you're drying out your hair and you're likely heat styling it every day, which is a complete time suck.
So, we're faced with this issue: How can we workout without sacrificing our hair? We needed some expert help, so we went to the professionals over at Paul Labrecque Salon in the Sports Center at Chelsea Piers. Below, their sage wisdom for finding a happy medium between exercising and maintaining a good hair day.
Beauty High: Many women will skip a workout to preserve their hair. What are some ways to make working out work for your hair?
Paul Labrecque: Before a workout, apply Paul Labrecque Repair Condition to your hair. Comb through with a wide-tooth comb and put hair in a high bun. After your workout, rinse out with lukewarm water, and you'll have soft, shiny hair.
How can you style your hair after working out so you look like you didn't just come from the gym?
Braided styles are great for after the gym. You can also wrap a scarf around your head, secure hair in a low ponytail and braid the scarf through your hair for a fun summer look. A sleek ponytail, smoothed down with holding gel, is another option for day or night.
What are some workouts you can do that are high intensity with minimal sweating to preserve your hair?
Anything low-impact like mat Pilates, yoga or walking is great to minimize sweat! If you go swimming, wear a cute swim cap to keep your hair dry.
Are there any tricks or products that work for styling your hair post-workout?
If using a blow dryer at the gym, make sure you don't over dry (this will cause frizz). If you have wavy or curly hair, use a product like styling cream and twist and scrunch the hair to help it hold the curl as it dries.
How do you suggest women work past forgoing a workout because of their hair?
It's helpful to go to the gym early in the morning or late at night so you won't mess up your style for the day. Another tip is focusing on low-impact workouts (swimming, yoga, etc) that won't make you sweat as much. Finally, joining a gym with an in-house salon/spa is perfect if you're worried about messing up your 'do—you can run in for a quick blowout before work or a night out.
Are there any particular styles you can do during the workout to make your hair look good afterwards? 
A high bun or ponytail during a workout will give you tons of volume after. A braid will help create loose waves.
Image via Istock
More Workout Tips From Beauty High:
How to Make Working Out Work For Your Skin
Hair Inspiration For Your Next Workout
10 Essentials For: The Gym Bag