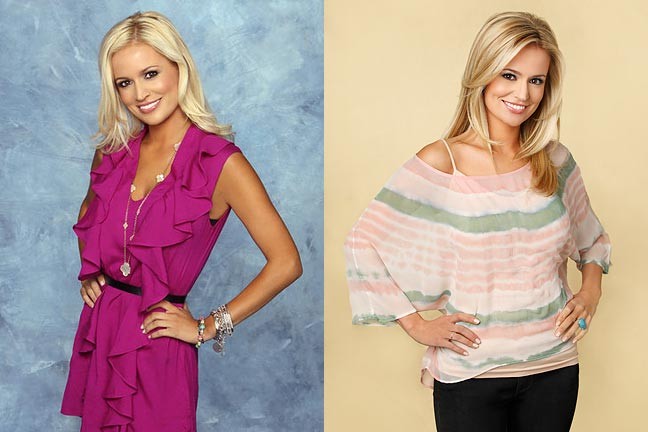 Emily Maynard, this season's star of The Bachelorette is certainly a blonde-haired beauty. But, this season we've noticed that she's taken her look down a notch, switching up her platinum locks to a more subtle hue, and her intense eye makeup for a more natural look.
Gina Modica, a Hollywood makeup artist who works with Maynard, told YouBeauty.com that uses airbrush makeup by Temptu to create a seamless finish. "A lighter foundation and less powder gives her a more youthful look," Modica said."Also, I blend everything so there aren't any hard lines."
According to Modica, Maynard usually does her own hair for the show, unless important occasions arise, and for those, they take a different approach. "For the rose ceremonies, we collaborate on the style that will look best with the dress she's wearing," Modica said.
Her hair color has been one of the biggest changes that has had the most impact on Maynard's appearance, said a New York stylist and salon owner Mark Garrison. "The highlights give dimension while the lowlights at the root give depth," says Garrison. "The tone is more flattering to her skin and just looks expensive," Garrison said.
In order to keep Maynard's makeup subtle, both Maynard and Modica love to utilize fake eyelashes instead of piling on other products. They like the "popping" effect that fake eyelashes have when paired with softer makeup and a touch of eyeliner.
Neither Modica nor Maynard are fussy about the kind of fake eyelashes they use for the show. "There's no special name," Modica said. "You can find them in any beauty supply or drugstore." Maynard also favors using inexpensive, yet versatile products such as Vaseline for her lips.
Maynard, now a laid back, low-key single lady is ready for another round at finding love. Maybe this make-under will be the key to what she is searching for.
 [Youbeauty.com, Images via ABC.com]