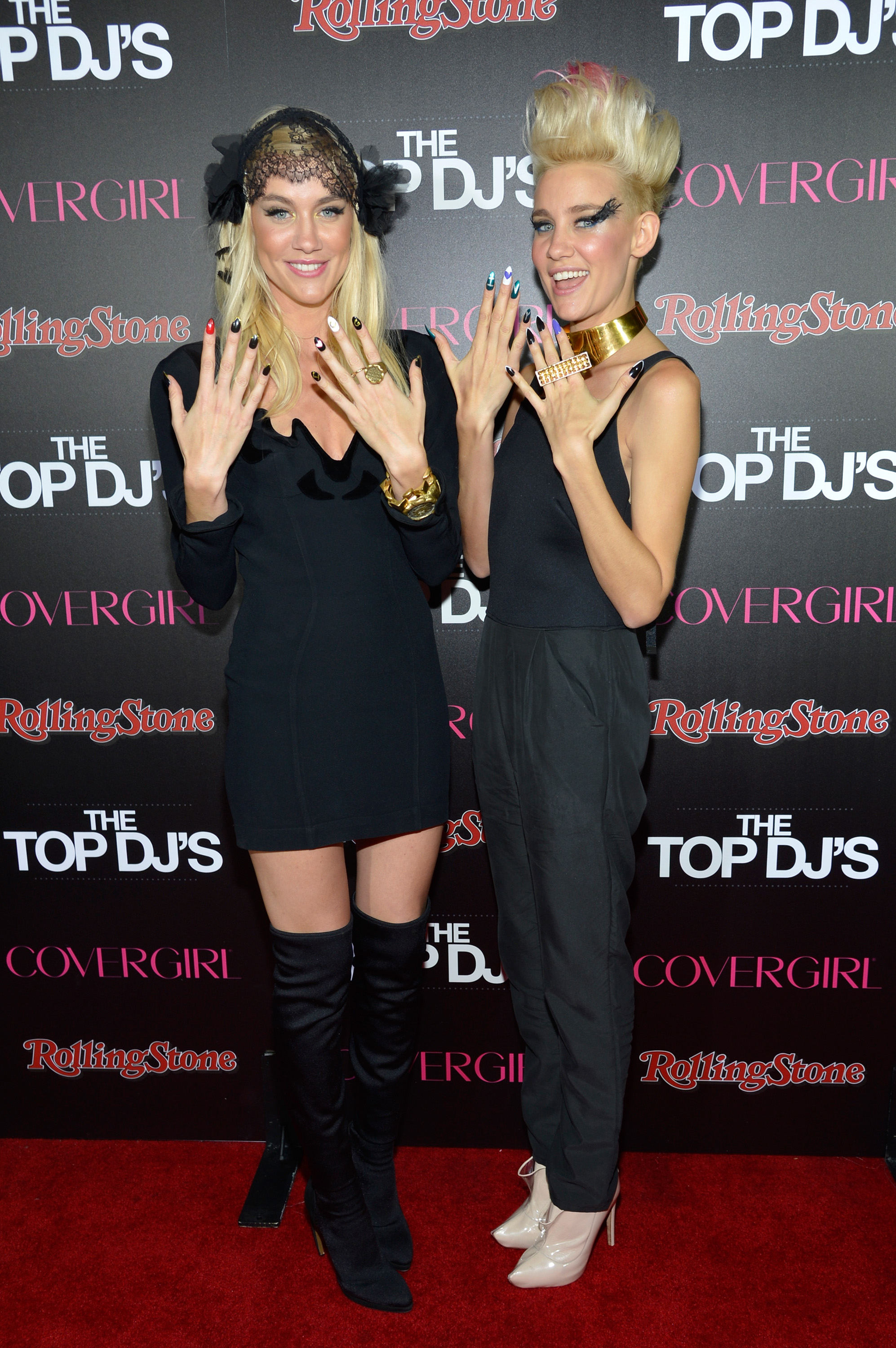 CoverGirl added Australian DJ sisters Nervo to the latest lineup of CoverGirls, making them the edgiest CoverGirls yet. Liv and Mim Nervo may be our next girl crushes as these two gorgeous blondes are the definition of confidence and beauty, working (more like playing) in an industry dominated by males. They started out as songwriters (writing lyrics for hits by Britney Spears and Ke$ha), became producers and DJs, and recently signed with Wilhelmina Models. The twins exhibit two different styles – Mim always wears her hair in a mohawk and Liv wears a hat on top of her long, blonde hair. Nervo told us what it means to them to be CoverGirls and what their favorite products are – read on for more!
Beauty High: How does it feel to join such a well-respected group of girls such as P!NK and Janelle Monae?
Nervo: We are beyond excited to be CoverGirls and join the ranks of such musical talents as P!NK and Janelle who believe in female empowerment as much as we do. We think it's really cool that both women are into creating their own path in the music world just like we are.
Why are both of you excited to be the new CoverGirls and what does it mean to you?
We've grown up seeing the ads and hearing the CoverGirl motto, so we can't believe that now we're really saying it as CoverGirls. To us, CoverGirl stands for beauty that makes you feel unstoppable and strong – that's something that we really relate to and believe in.
How would you describe beauty? How does it relate to music?
To us, beauty's not really one thing. Everyone's beautiful – all ages, all looks. It's all about confidence – being beautiful from the inside out. The same goes for music – individuality is a trend that will always be in style, and makeup and music are both ways we love to express our personalities and style!
You were the only females voted on DJ Mag 2012 Top 100 DJ's Poll, what is it like working in a male-dominated industry?
We love that we're breaking barriers and paving our own path as DJs. It's a real honor to be able to do what we love while following our personal style and be recognized for that. As women, that makes us feel powerful and strong!
How did you get started in the music industry?
Music chose us, we are so lucky our hobby and passion became our career.
Has your music style and career influenced your beauty in any way?
We're not afraid to experiment – when it comes to our fashion or our music.  We like taking risks like we have with our career, with making music, writing music. You have to think outside the box. If you're making music you can't write the same records that are on the radio. And the same goes for fashion and makeup. You don't want to look like everyone else! We want to do something fun.
Lastly, what is your must-have beauty product?
We love CoverGirl's new Outlast Stay Brilliant Nail Gloss. The shades are glossy and bright, and even better … you don't need a top coat!  We're so busy; we never have time to do the whole top coat thing so this is perfect for us!  And Mim is obsessed with Calorie Fat hairspray – she always has a can in her bag!