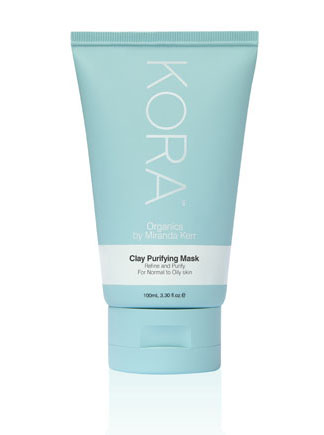 One thing we know about winter weather is that it's causing our skin to go a little bit insane. Dryness, blotchiness, breakouts, and wrinkles we didn't even know we had. So not okay.
For those of us who don't have the time (or funds) for regular facials, here are some expert ideas and product recommendation for getting spa-quality results right at home. No matter what your issue may be, one of the following treatments will get your face back to it's regularly gorgeousness.
For detoxing: Kora Organics Clay Purifying Mask
From the skincare line created by none other than glamazon Miranda Kerr comes this completely revitalizing mask ($52, koraorganics.com). Using natural clay, noni extract, and lavender, this treatment is designed to shrink pores, decrease oil on the skin, and draw out those icky impurities. If your skin is constantly breaking out or you've done a bit too much indulging, this is the mask you need to rebalance your skin.
For dry skin: Hydrating and Exfoliating Treatment from Lexie Masterson, founder of Clairvoyant Beauty
The most important things to do are exfoliate and hydrate, Masterson says. To exfoliate, mix one teaspoon of sugar into your cleanser and massage gently into your skin. Rinse off and follow with a toner infused with rosewater or cucumber. Then, try a great dry skin mask of mashed avocado mixed with about a teaspoon of honey. Avocados are full of vitamins A and B and essential fatty acids (deeply nourishing), while the honey is a natural humectant and antibacterial full of potassium, vitamins and minerals. Leave the mask on your face for 10-15 minutes, then rinse off with tepid water.
For super dry skin: Max Moisture Treatment from NYC dermatologist Dr. Debra Jaliman, author of Skin Rules
Use a double layer of moisture, Jaliman says by putting a hyaluronic serum under a moisture cream. You can better seal in the moisture by washing your face in warm, not hot, water and even spraying a fine mist over your face before putting on cream. Also, be sure to skip your toner to keep from drying your skin out further.
For sensitive skin: Balanced Guru Spiced Up Berries Antioxidant Facial Masque
If masks and treatments tend to make you break out, try this organic mask ($45, balancedguru.com) that you actually mix up yourself. The mask, which is actually safe enough to eat, comes in powder form (made of acai, acerola berries—which have both collagen-building and acne fighting properties—clove, cinnamon, oatmeal, and vitamin C), then you "activate" it by mixing the powder with water, honey or greek yogurt.
For anti-aging: Silk'n Renuva Mask
Not only is this mask ($17.99, silkn.com) stellar for smoothing fine lines, it's way easier to use than other similar products. Soaked in rich anti-aging nutrients—beta carotene, hyaluronic acid, elastin and aloe vera extract, to name a few—the mask just needs to be removed from its pouch, then put on your face. When you're done with the treatment, simply pull it off and throw it out.
Read more: