Instead of seeing all the bad that Hurricane Sandy is bringing with her to the east coast, we're focusing on the extra time spent at home. And what better to do than pamper ourselves with some new at-home beauty treatments we've been dying to try out? If you find yourself with a little free time too, you must try these salon-worthy products.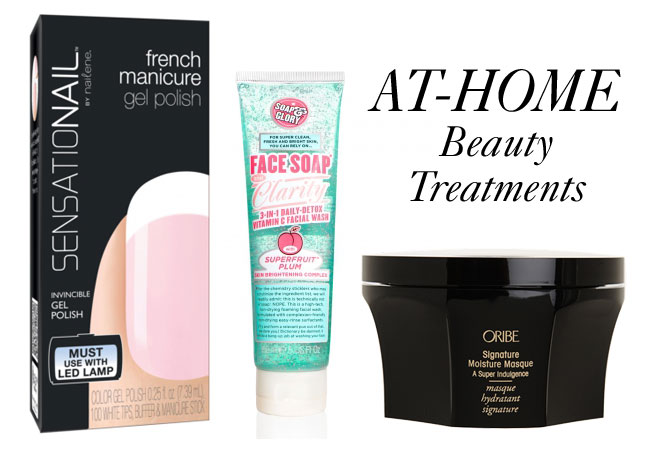 Sensationail French Manicure
After the models at the Spring Chanel Runway show sported French manicures, we've been dying to return to the classic. And with a little time on your hands, you can get the polished look with the new Sensationail French Manicure Kit ($60, Sensationailgel.com). Lasting up to two weeks, the gel mani is available in clear and pink.
Oribe Signature Moisture Masque
From being on-the-go 24/7, we forget our strands need a little downtime too. "Forced heat, both from blow dryers and from heating units in your home and office, does a number on your tresses, drying them out. Signature Moisture Masque ($59, Oribe.com) provides the perfect antidote; it's a super-rich reparative treatment for damaged locks," said hairstylist Steven Schmidt, member of the Oribe education team.
Soap & Glory Face Soap and Clarity 3-In-1 Daily Detox Vitamin C Facial Wash
Not enough time for one of those fifteen-minute face masks? No problem. Try this detox facial wash ($16, Soapandglory.com) that will instantly brighten tired, rundown skin with its superfruit plum skin brightening complex. Just rub a grape sized amount onto damp skin and create a lather before rinsing.
What are your favorite at-home pampering products?