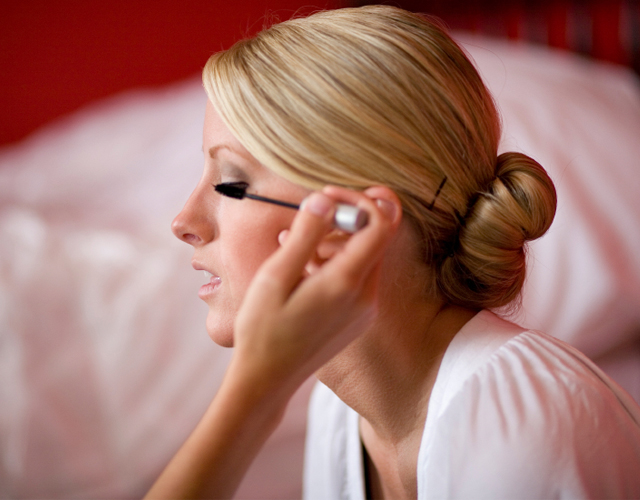 The big wedding day has finally arrived and with careful planning, you've probably thought of every disaster that could possibly happen. But there's always a last-minute challenge that happens to the best of us. Lipstick on the teeth, fallen hairstyles, streaky self-tanner, a planet-sized zit right on your chin – we've heard and seen them all.
This is when you call in advice from the big beauty experts. We've approached our favorite beauty experts on every single wedding day beauty mishap we could think of and rounded up the best advice from the bunch. From your head to your toes, keep these last-minute tips handy to cover anything that might occur.
What do I do if my lipstick is too bright? What if it's too dark?
You can neutralize bright – or even too dark – lipstick by blotting your lips and applying a subtle nude gloss over the shade to mute it.
How do I fix makeup that's started to melt/run/slip?
Use a light mist of water to freshen your skin and makeup. Once the mist dries, reapply makeup only where you need it.
What do I do if my foundation is too dark? What if it's too light?
Depending on the issue, try layering a darker or lighter powder on top to fix the color. This will help to deepen or soften the shade to better match your skin tone.
Help! My makeup is too heavy!
You have several options. Mixing a drop of water with a small amount of your foundation (you can use the palm of your hand) instantly lightens its look and feel. If it's cream-based foundation,  wet the sponge you used to apply it and dab it away.  If it's powder foundation, do a light mist of water after you apply it, then let it dry to lighten. Note: do not pat it dry. You'll make a bad situation worse.
OMG, someone just kissed me and now I have a lip print on my makeup before walking down the aisle! Any quick tips?
I like to keep blotting papers on hand for things like this. Just blot the area, then place a dab of concealer to remove any unwanted smudges.
My mascara came out all spidery and heavy. How do I make it look more natural?
Use a Q-tip dipped in eye makeup remover and gently rub only the affected lashes to remove some of the excess mascara, then start again holding the brush at an angle for definition and length without clumps. My favorite right now is Elizabeth Arden Beautiful Color Lash Enhancing Mascara.
My veil won't stay put. It keeps sliding out!
Take two large bobby pins and put them in horizontally underneath where the claw is secured to the veil so they're hidden, then work them in. They'll help anchor the style.
I'm freaking out! One of my extension tracks is coming loose and you can see it!
No problem! Take a small hair pin the same color as your hair and secure the track quickly back into place.
I got caught in the rain and now my hair is wet.
Use a Ted Gibson Hair Sheet to tame the frizz down, then blow it out again. I would also use Ted Gibson Build-It Blow Drying Agent to give your hairstyle its original volume and to recreate the original texture so you rebuild the style you had before.
I had no idea it was so humid here! My hair is Frizz City.
Place a dime-sized dollop of a shine lotion in your palm, rub your hands together and apply where the frizz occurs. Problem solved!
My hairstyle is totally falling apart. My curls are everywhere. Help!
This is when it helps to know how to do a quick twist. Smooth your hair all the way around, twist your hair into a bun and then add flowers that are part of your wedding decor. Honestly, flowers are the quickest, easiest way to add high style and beauty to any wedding look!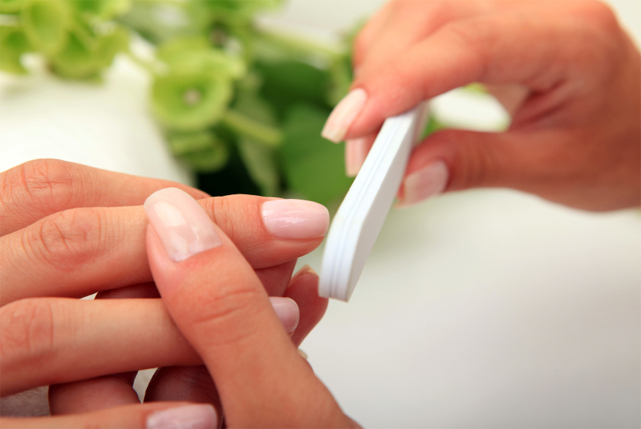 UGH. I have a last-minute chip in my manicure.
Be sure to have the color on hand so you can touch up the chipped area with the same nail color and apply a quick dry top coat like JIN Soon Top Gloss on the entire nail so it looks smooth and finished. It's always good to have a bottle of nail polish and a top coat on hand when you travel for a quick fix!
How to you handle a broken nail minutes before walking down the aisle?
It's simple: just file down the broken nail without removing the nail color (filing from underneath works best.) Since most wedding colors are nudes, it's okay to file down a broken nail and smooth the rough edge with a sanding block.
OMG, my manicurist never showed up to the ceremony! How do I make my nails look gorgeous in minutes on my own?
My favorite short cut when you don't have time to make your nails look healthy and well-manicured is to skip the manicure and apply a coat of sheer nude and high gloss top coat. You can skip the base coat in this case because a coat of sheer nude will act as a base coat. If you don't have time to get your nails done, simply apply cuticle oil on your nail beds and cuticles so they look super fresh!
Help! My sunless tan is too dark!
Try an aggressive exfoliant to speed up the fading process, or jump into a relaxing hot tub. Not only will it help you relax, it will get rid of tanning mistakes fast. The heat helps the chlorine act as a lightening agent.
My sunless tan came out all streaky and/or blotchy.
Missed or streaky spots are easy to fix by reapplying self-tanner on the bare spot and blending it into the surrounding area. You can try to lighten the streaky area with an aggressive exfoliant.
A zit appeared on my face the day before my wedding. Help!
Don't panic. Apply ice. The cold temperature of the ice can help reduce inflammation in a blemish to diminish redness and swelling. Leave it on for ten minutes at a time and repeat every few hours. Then, apply a nondrying spot treatment or cortisone cream, which could help reduce the appearance of the blemish. Be sure to use a non-drying, anti-inflammatory spot treatment like Renée Rouleau Anti-Cyst Treatment or an over-the-counter cortisone cream, so you can reduce inflammation without disrupting your skin's texture, which can affect the smooth application of your wedding makeup on the surface of the skin. Many spot treatments can leave the skin dry, flaky, and more irritated, which will interrupt the smooth application of your wedding makeup. Also, don't pick at it. That only results in an oozing, bleeding, messy scab and it's far harder to conceal than a closed bump.
The tears of joy at my rehearsal dinner have given me puffy eyes.
Apply a very cold compress, which can help reduce swelling. Use a bag of frozen peas over the eyes and keep it on for ten minutes. Repeat this every hour. You can also keep a spoon in the refrigerator, and apply that to the under eye area. You should then massage the eye area using your ring finger and with a slippery eye gel. Use small, circular motions. The stimulation from the massage encourages fluid movement away from the under eye area.
My nerves turns red and flushed when I get nervous or excited.
Keep the room temperature cool. It's common for the excitement and nervousness of your wedding day to cause increased blood flow to the skin, and being in a cool environment can help keep the temperature of the skin and body lower to prevent any unnecessary redness. You can also apply ice packs if you need a quick fix to reduce redness and lower the temperature of the skin.
Nerves can often cause me to overheat. Is there anything I can do to help sweating on the face the day of the wedding?
It is absolutely imperative that you consume NO hot drinks within five hours of the event. You must avoid hot coffee or tea in the morning, as they can heat the core body temperatures long after they've been consumed. Also, brides should take AT LEAST 10 minutes alone prior to the wedding – no mothers, relatives or bridesmaids – just yourself, so you can sit patiently and concentrate only on your breathing. It will truly calm everything down.
My skin looks kind of dull on The Big Day. Help!
I would highly recommend treating your skin with a RéVive skin care regimen. The day of the wedding, use RéVive Sensitif Day, which calms and soothes skin and provide immediate visible improvement, followed by RéVive Intensite Moisture Serum Extreme, which increases base moisture levels, leaving skin soft, supple and dewy.
How can I brighten my teeth the morning of my wedding from anything that might stain, like coffee or tea?
I recommend to my patients to use Go Smile Double Action Ampoules. You just rub them onto your teeth, and within minutes you see a brighter smile. It would be a good idea to have a bowl full of them out for the entire bridal party to use before the photographer gets started!
I think I have something in my teeth. Is there any discreet way to remove it?
Aside from excusing yourself to run to the restroom, the best thing to do is take a large sip of water and swish it around with your lips closed together, which can help flush the food away from your teeth. Do this a few times and the food will eventually rinsed away.
Are there any quick tips to removing lipstick from my teeth? 
Try using a mirror compact to cover your smile and then just wipe off the lipstick using a tissue, or if your hands are clean, even your finger.  Lipstick won't rinse away, it needs to be wiped off.
Images via Istock