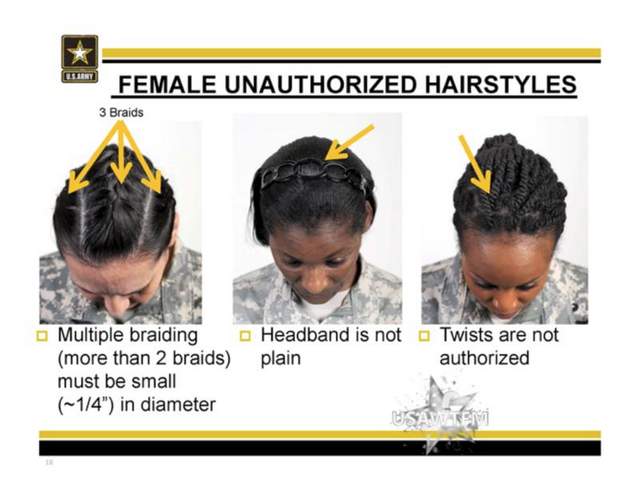 This week, an update to Army Regulation 670-1 (which is a guide to hairstyles that are and are not permitted in the army) banned certain hairstyles for African American female soldiers. Besides a ban on dreadlocks, the update also states that braids more than a quarter of an inch in diameter and twists are now unauthorized. While the regulations are put in place to ensure that headgear properly fits and so that the soldiers look neat and conservative, the new update raises a few questions.
Twists and dreadlocks have been banned since 2005, but only with the latest regulations were certain hairstyles noted. For the female African American soldiers who have been serving for years, the regulation is particularly unsettling. "I've been in the military six years, I've had my hair natural four years, and it's never been out of regulation. It's never interfered with my head gear," Sgt. Jasmine Jacobs, of the Georgia National Guard, who wears her hair in two twists, told the Army Times. 
MORE: 12 Problems Only Girls With Natural Hair Understand
Jacobs started a White House petition this week opposing the updates to Regulation 670-1, which already has over 6,000 signatures. In the petition, she states, "Females with natural hair take strides to style their natural hair in a professional manner when necessary; however, changes to AR 670-1 offer little to no options for females with natural hair." As far as how she'll proceed with these new regulations, Jacobs says, "I talked to my first sergeant, and he said we would [face non-judicial punishment] if we're out of reg, so I either get a wig or be NJPed, all because of the way my hair grows naturally."
While it's understandable that the army would regulate hairstyles — men all get a buzz cut, so it makes sense women would be subject to hairstyle regulations as well — the new regulation lacks the proper education about how natural hair grows and can be styled. If women in the military need to resort to wearing wigs to avoid punishment, it seems that the regulations may need to be re-designed.
Image via Army Times