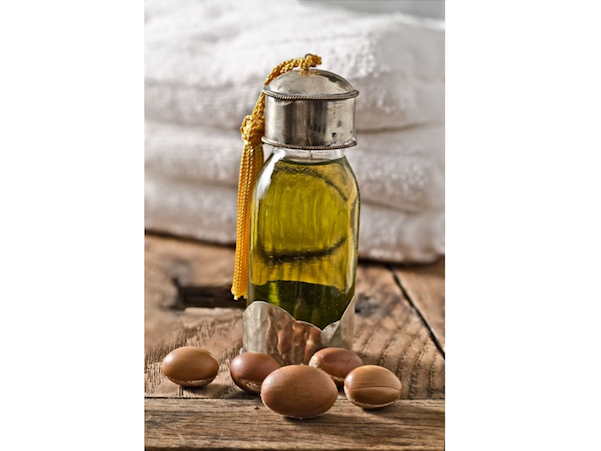 The latest in buzz-worthy beauty ingredients is this plant oil produced from the kernels of the argan tree, which is native to Morocco. Used as a food, you'd find argan oil as a staple for dipping bread, in couscous recipes, and for making an alternative form of peanut butter.
And while some studies have shown that daily consumption can actually help stave off certain cancers, using the oil on your skin and hair also has some major benefits. Here's everything you need to know about this increasingly popular treatment and if it's right for you.
MORE: The Best Body Oils to Keep Your Skin Silky Smooth
The Skin Benefits
Argan oil is commonly known as "liquid gold" around the world, says dermatologist Dhaval G. Bhanusali. Although further research is necessary, preliminary studies have shown that the oil can improve acne by decreasing sebum (the oiliness that leads to blocked pores), soften scarring, and strengthen hair.
Dawn Lombardi, a beauty expert at Perfectly Pure, which makes argan oil-based products, adds that because the oil contains vitamin E, essential fatty acids, and protective antioxidants, it can be an effective way to nourish your skin and hair naturally, while also assisting in free-radical protection.
Who Should Use It?
Bhanusali says that the oil is actually best for oily skin because of the way it decreases sebum protection. (He cites a 2007 study that actually showed how 95 percent of participants had sebum decrease when they started using the oil as treatment.) The linoleic acid in the oil also helps act as an anti-inflammatory (think: improvement of the annoying red bumps on the skin without taking harsh antibiotics). But he says that oil can benefit dry skin as well because of how it improves the retention of moisture in the skin.
MORE: 10 Under $10: Body Oils That Won't Break the Bank
Who Should Avoid It?
Given the scarcity of data, Bhanusali says, not enough is known as to whether or not argan can cause what's called a contact dermatitis (i.e., localized allergic reaction) but few reports do exist. However, he says that the oil itself might not have caused those reactions — rather, they may be a function of the preservatives used when manufacturing the oil more so than the actual  oil itself. So, finding the product in its purest form is your best bet.
How to Use It
The oil can be used on skin, hair, and nails, Lombardi says. She suggests using argan in the following ways:
1. As your daily moisturizer (it's lightweight and can be applied before makeup)
2. To manage split ends
3. To condition your cuticles
4. As a general body moisturizer
5. To soothe rough patches of skin on the elbows, knees and feet
6. As a bath oil
Image via Pinterest; Source: MyBeautyBunny