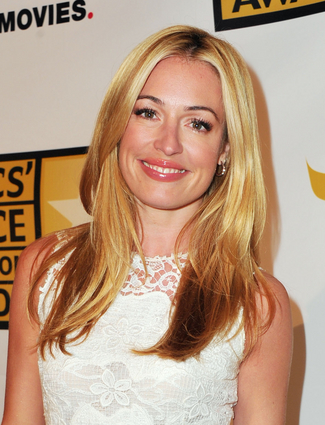 Cat Deeley glows wherever she goes.
Photo: Getty Images
We all know about the basic skincare essentials every woman should have: a good gentle cleanser, an antioxidant rich day cream with SPF 15 (or higher) and a skin-repairing night cream. (I prefer ones with retinol.) But in the past few months, at least a dozen new face oils–such coconut oil, chia seed oil, argan oil, avocado oil…the list goes on!–have crossed my desk, all looking quite exotic and touting to boost glow and improve overall skin health. Always in search for the new fountain of youth, I've been experimenting with quite a few of them, and while I've come to love them, I was still confused about the best way to work them into my regimen, and if they are something I should be telling everyone else to start using them too. I dialed up a few experts, and here's what I found out:
1. They rock at boosting your skin's moisture levels.
"Oils hydrate the skin and create a seal which locks in moisture. An oil might also have some other benefits, such as anti-oxidant or anti-bacterial properties, but their main function is to moisturize," explains skincare expert Renee Rouleau, who's pampered the faces of Sofia Vergara, Cat Deeley, Ashlee Simpson and Taraji P. Henson. In fact, they are so good at moisturizing that they plump up fine lines, smooth out rough patches and create an immediate glow. But in the long run, they generally don't have any long term anti-aging benefits. Read: Don't ditch your wrinkle-reducing treatments.
2. If you have oily skin, you can probably take a pass.
"Oil breeds bacteria and bacteria leads to breakouts. So people who are oily and acne-prone, may not benefit from using a facial oil. Instead, they should really be trying to lessen the amount of oil on their skin in general," says Rouleau. While some oils say they are noncomedogenic, meaning they won't clog pores, Rouleau still cautions women with slippery skin to watch out. "If you have just a little oil on your skin, you can certainly try it, but face oils are really best for normal to dry skin types," she says.
Related: Finally, How To Accurately Read A Sunscreen Label!
3. Apply face oil at night, along with your anti-aging moisturizer.
"During the day, your focus should be on sun protection. Also, your skin creates enough natural oils throughout the day anyway. At night, your skin is at rest and in repair mode, so that's a great time to use a face oil. It'll help repair your moisture barrier, nourish your skin, and give it the hydration it needs," says Rouleau. NYC dermatologist Nicolas Perricone suggest adding a few drops of facial oil into your face cream, then massaging it in thoroughly. Just remember, "a little goes a long way," he cautions. Usually a pea size amount can cover your entire face.
4. You can use face oil on other parts of your body.
Got a bad case of dry cuticles? Or maybe some rough dry patches on your back? What about your elbows–do they look ashy and scaly? Face oils are great for moisturizing other problem areas on your body. "I recommend O-Mega Oil for cuticles, split ends or any dry patch of skin on the body," says Perricone.
Here are the face oils that I've tested and really liked:
1. Absolis Patyka Face & Body Serum ($70, Dermstore.com) smells heavenly and contains Dog Rose oil to regenerate cells and make skin feel supple.
2. Suki Pure Facial Moisture – Nourishing ($32.95, Sukiskincare.com) contains cold pressed beta carotene-rich carrot seed oil to promote cell renewal and provide intense moisture.
3. Fresh Elixir Ancien ($260, Fresh.com) has been a longtime favorite of mine. It's pricey, but a little goes a long way. It contains sea buckthorn berry oil, which has high amounts of omega-7 fatty acids for intense moisturizing benefits.
4. Amorepacific Green Tea Seed Treatment Oil ($195, Sephora.com) is sourced from the company's private green tea field on Jeju Island, off the coast of South Korea, and cultivated only once a year. The oil helps fortify the skin's natural lipid barrier and restore luminosity.
5. Talika Huiles Vitales ($45, Dermstore.com) contains a mix of almond oil, avocado oil, hazelnut oil and carob germ oil.
6. VMV Hypoallergenics Know-It-Oil ($26, Vmvhypoallergenics.com) is 100% USDA-certified organic virgin coconut oil, which is natural antibacterial, anti-viral and protective properties.
7. Super By Dr. Nicolas Perricone O-Mega Oil Liquid Nourishment ($42, Getsuper.com) contains chia seed oil, which has more o-mega-3's per gram than flax or fish, to restore even the driest skin.
8. Tarte Pure Maracula Oil ($46, Amazon.com) is sustainably harvested by Amazonian women who pick this nutrient-rich fruit, then hand press it to lock in the maximum amount of essential fatty acids, which restore moisture and vitality to skin.