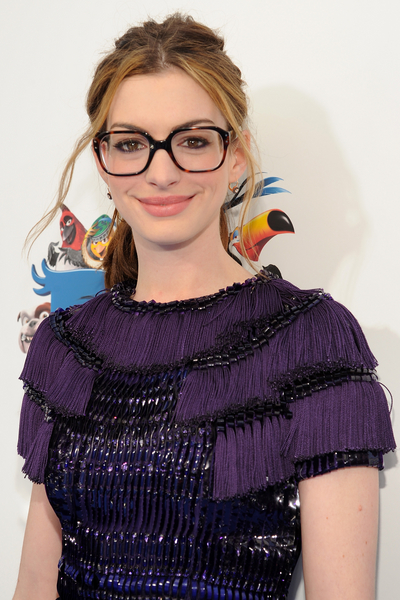 Photo: © John Sciulli/Getty Images
Now don't get me wrong, I quite enjoy the glasses trend of the past two years that's coincided with the rise of the hispter. You know the one I mean—specs with thick rims that look exactly like the ones your relatives are wearing in photos from the 1970's. I also think the whole man-repeller fashion trend is totally adorable on women who can pull it off. There's even a blog devoted to the concept called, appropriately, The Man Repeller. If you're not sure what man repelling is, it's basically clothing, accessories and beauty trends that women think are so chic, but men find revolting because they actually make the woman look less attractive.
Nevertheless, I have to give Anne Hathaway the weekend's "WTF was she thinking?" award for the outfit that she wore to the premiere of her new movie, Rio. Glasses like these have a time and a place, Anne—that time and place being the Brooklyn-bound L train at rush hour.
Perhaps Ms. Hathaway was copying another huge supporter of the geek chic glasses trend: one Justin Bieber. The Biebs love nothing more than appearing on red carpets with some thick-rimmed glasses in any color from purple to basic black. The difference here being that he's 17 and doesn't have a reputation for being a fashion-forward trendsetter. Then again, maybe we're not giving Justin Bieber enough credit—perhaps he is capable of launching red carpet trends. Is that the future? Everyone dressing like Justin Bieber? If so, stop the world, I need to get off.
Moving on from Anne's face to her outfit: What is going on there? Her purple Gucci dress has not only epaulets, but an entire collar decoration made of tassels. Is this the next evolution of Scarlett O'Hara's using the drapes to make a dress? Unless she's going to recreate my 1991 dance recital performance of "Come Follow the Band," that dress needs to lose some tassels—and by some, I mean all.
What do you think of Anne Hathaway's geek chic glasses and tassel dress? Would you rock man-repelling glasses on the red carpet?


Try on Anne Hathaway's hairstyles in the Makeover Studio!