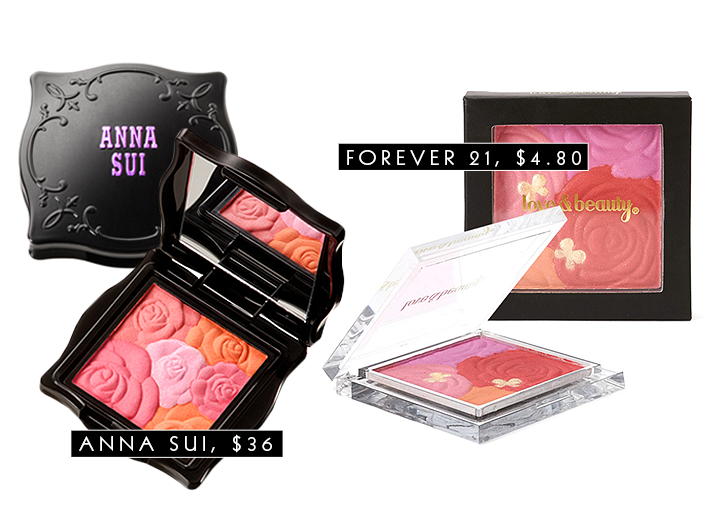 Like any beauty addict worth her salt probably knows, when there's one product, there's usually another just like it for a fraction of the price. That's not to say we never buy the good stuff—oftentimes designer beauty products are more pigmented, are made with higher-quality ingredients, and—let's face it—simply look prettier on our bathroom counter. But there are times when all those $30-plus purchases add up, and seeking out cheaper alternatives is essential to our wallets.
Case in point: We've been coveting Anna Sui's gorgeous $36 Rose Fairy blush for the past few seasons now (especially after we spotted it backstage during New York Fashion Week), so you can imagine our excitement when we spied an almost-identical version at Forever 21. With it's less-than-$5 price tag, we didn't have enormous expectations, but we took it home to give it a try.
MORE: The Best Blush: 10 Shades to Flatter Your Cheeks
Like Anna Sui's, the blush features a 3D floral motif with individualized matte shades that can be worn alone or mixed together. A small difference is that the Forever 21 product features small specks of shimmery gold, but it's easy to work around them if you're not into shine. Surprisingly, the blush is super-pigmented, has solid staying power, and imparts a healthy, pretty flush.
The clear plastic compact isn't as sturdy as Sui's, but hey: for $5, you take what you can get.
The bottom line: If you feel like shelling out the cash for Anna Sui's Rose Fairy blush, you obviously can't go wrong, but for $5, Forever 21 makes a totally viable (and way more affordable) alternative.
Anna Sui Rose Cheek Color, $36; at Beauty.com; Rose-Embossed Blush, $4.80; at Forever 21