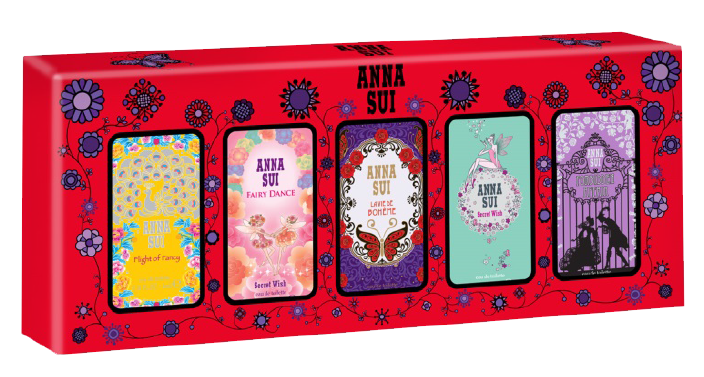 When you spot a piece of Anna Sui clothing, it's about impossible to mistake it for anything else. The same goes for the designer's cosmetics collections, always a mix of glamour and boho style. Her collections are not for wallflowers, and that's why we love Anna's designs so much.
The same thought behind her fashion collections goes into her fragrance collections, and her new fragrance, La Vie de Boheme as well as her new holiday sets are just as desirable as her clothing. Available in mini gift sets that can be taken with you while traveling or used as decoration on your vanity, each option available makes us feel a bit whimsical and incredibly chic. To get the designer's take on her latest fragrances we went straight to the source. We caught up with Anna Sui to talk design, signature fragrances and what's next for her brand. Read on below!
Beauty High: Where do you get your inspiration for fragrances? 
Anna Sui: Everything comes from my fashion collection, the runway shows. But the research that goes into my collections and shows often leads to the inspiration for a cosmetic product or fragrance, so there is definitely a connection between all three. I always feel that every product has to be as exciting as the fashion. We pay so much attention to the entire creative process…the box, the bottle and the advertising campaign.
MORE: Mary-Kate and Ashley Are Launching a Fragrance at Sephora
How do you think women should go about finding their signature fragrance? 
Fragrance is very personal – it is emotional and it is individual – I think that all women have their own idea about what makes them feel pretty and special and that is what they should consider when trying fragrance. What do I like and how does it make me feel?
What makes your holiday fragrances so special? 
There are a few reasons why I love my holiday gift sets. Both sets have my most popular fragrances, fragrances that I also love to wear myself. When we began developing the sets I wanted to be sure that they would be small enough to pack for travel, but large enough so you have enough fragrance and you won't run out. And since the sets come with a variety of fragrances, I love that they give you the chance to wear and different fragrances no matter where you are this holiday season!
MORE: The Best Fall Fragrance for Your Personality
When choosing your own fragrance, how do you decide which to wear? Is it based on your mood on a particular day, or do you stick to one particular fragrance? 
Fragrance, like fashion, is a state of mind – how you're feeling that day. Sometimes we wake up and feel bold and powerful and we grab that pretty red dress and a spray of our signature or statement scent. Other days we are more casual and put on a pair of jeans and boots and want something different. For me, when I think of fashion and fragrance – it always comes down to: How do I feel and where am I going? My fragrances, as well as my fashions, compliment me!
Your fragrance bottles are always like little works of art. What goes into the design of the bottles? 
I think everything that I create, from my fashion collections to my fragrances, have an underlying consistency that the customer can depend on and relate to.  It's my job to make the fragrances as exciting as an Anna Sui dress. I think it has to have the same fantasy, the same world and universe behind it. You can see that in all of my product and that's why we spend so much time developing the products, the packaging, the beautiful containers. I think that every single Anna Sui product can't be anybody else's. It is all part of my universe and I think that makes the difference and why I have been able to maintain the popularity of the Anna Sui brand.
Like all of my designs; fashion, cosmetic, my home…design is a process that evolves as we create. I have been fortunate to have all of my fragrance bottles become collectible and in their own way iconic – this is a point I always keep in mind when developing a new bottle. Most importantly, each bottle has to embody that spirit.
What do you think the next step is for your fragrances? 
You'll just have to wait and see!
Anna Sui Fragrances, AnnaSui.com