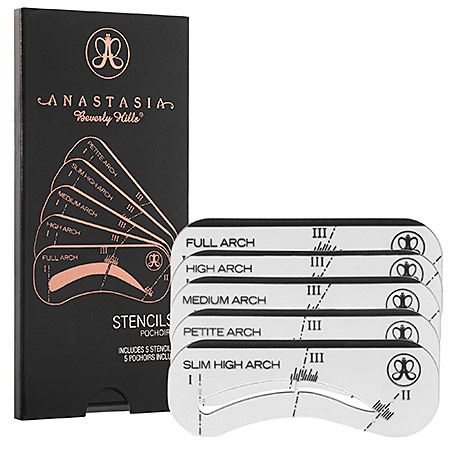 You know how you see the "bestsellers" and "most popular" products in beauty stores, so you of course scoop them up, but then you realize you have no idea how to work them? In "How It Works," we're going to explain to you exactly how to get the best use out of your products, whether they are cult classics or hot off the conveyer belt must-haves. We'll teach you the basics, as well as a few industry expert tips to make sure you're getting the most out of everything you buy. 
We tend to stress over achieving the perfect brow. Getting them thick enough, long enough, and the perfect shape have always seemed to be a daily concern. It also can seem daunting to tweeze your eyebrows on your own. Tweezing too much or too little can be hard to fix. But now, with the Anastasia Classic Stencils, perfect brows are easy to achieve. By placing the stencil on your brow and tracing the line with your tweezer, you'll have salon brows in no time.
MORE: How to Get the Brows You Want
Product Perks: 
Complete with five unique stencils to achieve any shape or size you're looking for.
Easy to use and easy to clean.
Includes easy step-by-step directions on creating the perfect brow.
How It Works: 
Choose the stencil that most closely resembles your face and brow line (instructions included explain how to pick the perfect stencil). Place stencil on brow and follow its line while tweezing and styling. Whether you're in between waxing appointments or just want fabulous brows all the time, these Anastasia brow stencils are extremely easy to use and lightweight, making them perfect for traveling. In no time, you'll have perfect, full and shaped brows.
Where to buy: Anastasia Beverly Hills Classic Stencils, $20, Sephora.com