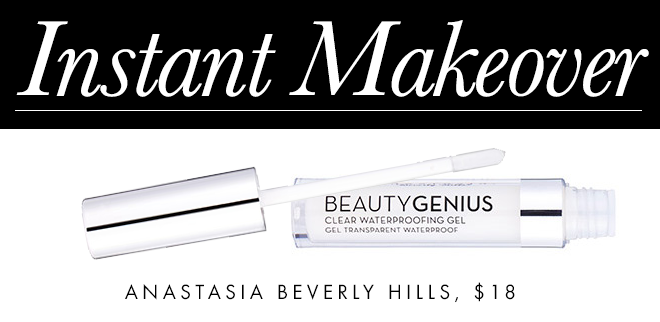 Occasionally we come across a product that bestows an immediate glow, changing our look (for the better!) in an instant. Since we'd be remiss to keep them to ourselves, we highlight these genius finds in our Instant Makeover series.
Up until recently I never really understood the need for waterproof makeup, save for a teary occasion like a wedding. Going to the beach? Just don't wear any. Problem solved! This winter, though, I've learned my beauty lesson. The air is so cold it makes my eyes water like crazy. By the time I've walked from my apartment to the subway, my daytime smoky eye is running down my face. Fortunately, I've found a product that keeps everything in its rightful place.
Anastasia Beverly Hills Beauty Genius Clear Waterproofing Gel ($18, sephora.com) can be used with any powder makeup to make it waterproof. I even apply it over my liquid liner, and it becomes virtually indestructible. Not only will this clear gel save your eye makeup, but it will keep you from having to store a waterproof version of every product you own (who has the space?).
To use the product with loose eye shadow pigment or glitter, simply pour a small amount of the makeup onto a palette, collect some of the Beauty Genius gel onto the applicator and use it to mix up the ingredients before applying. Wipe off the Beauty Genius applicator and put it back into the tube.
Read more: 10 Makeup Tweaks to Brighten Your Winter Look