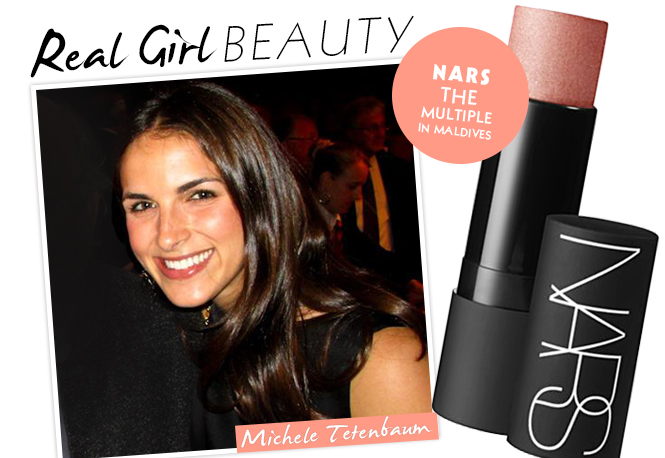 Going backstage and learning tips and tricks from the professionals may be an adventure, but sometimes, the best tricks come from real girls. In "Beauty and the Real Girl," we learn the best beauty tips, tricks and secrets from girls just like us.
When it comes to livening up your face, taking a few seconds to add a hint of color to your cheeks can go a long way. But, many of us are scared of going too far, or contouring with the wrong shade, due to that whole "clown" phenomenon. While blush and bronzer may "easily" liven up any look, seeing a bright pink shade in a palette can also be extremely overwhelming. That's why whenever we see a "real girl" with some contouring prowess, we have to find out how she does it.
Michele Tetenbaum, who works in the styling department at One Kings Lane, swears by NARS' The Multiple in Maldives. The shimmering pink cream stick can be used all over your face, but is perfect for adding a touch of color to your cheeks in just a few swipes.
MORE: How to Get Glowing Skin in 10 Easy Steps
Michele told us, "This is one of my favorite products. It helps to accentuate your cheekbones and really just makes your face glow overall, making you look more awake (even when you're not) and gives you easy color to your face. I suggest it to all of my friends!"
So, if you're a bit hesitant about experimenting with blush but desperately want to add some color to your cheeks – this product has Michele's vote (and ours too)!
Where to Buy: NARS The Multiple in Maldives, $39, narscosmetics.com
Image Courtesy of Michele Tetenbaum