Whenever we find ourselves with some free time, nail art becomes our go-to project. But for those of us who don't have a nail salon's treasure trove of supplies, creating arty manicures without the necessary tools can feel tricky. Not so! We spoke with Julep's lead nail technician Amy Shockman who gave us expert tips on how to create these easy-but-impressive designs with items you already have around the house.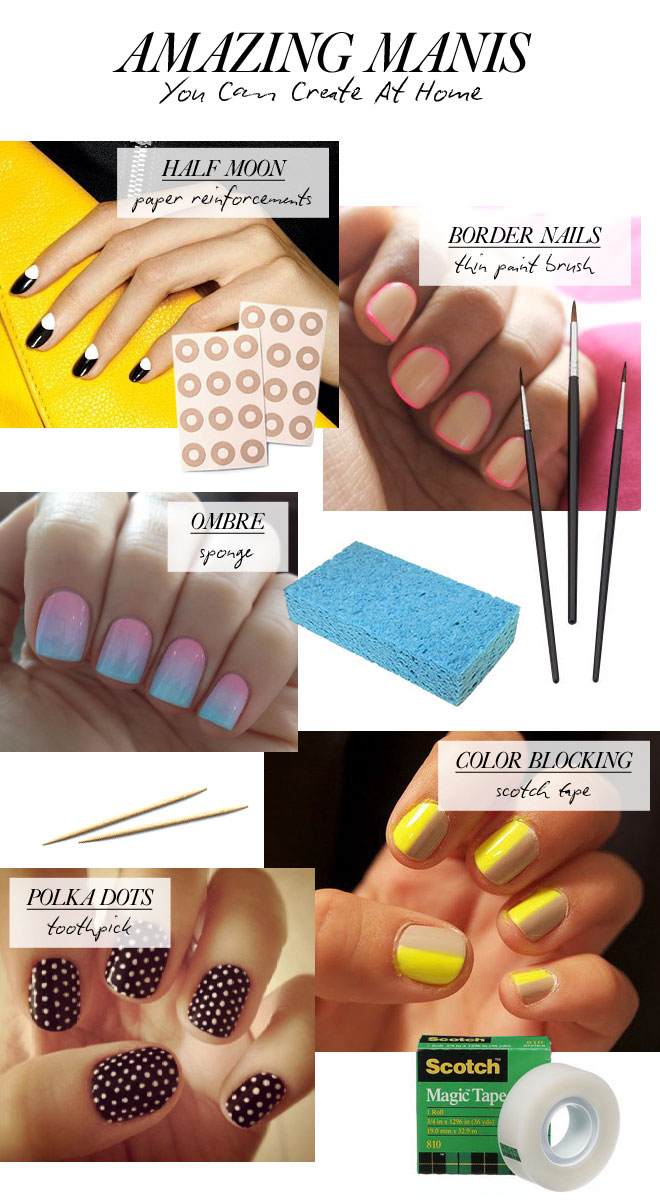 Half Moon (Photo: via Pinterest)
This mani looks challenging, but with a little help, this new fashion week staple is no harder to create than the rest.
What You Need: Two nail polish shades and stick-on paper reinforcements.
How To Create It: "Paint your nail with the base color first and let it fully dry. Then, use the reinforcement as a guide for the second color to create the half moon look," says Shockman. Let polish dry before peeling off the sticker.
Border (Photo: via Pinterest)
Instead of accenting the tip like a French manicure, draw a colored border around the entire nail.
What You Need: Two compatible nail polishes and a thin paint brush.
How To Create It: Don't be afraid to paint your skin around the perimeter. Coloring outside the lines makes it much easier to draw such a thin line around the entire nail. Use a skinny brush dipped in acetone to remove mistakes.
Ombré (Photo: via Pinterest)
We love ombré hair and applying the trend to your nails is much less risky.
What You Need: Two to three nail polishes in the same color family, a kitchen sponge and clear topcoat.
How To Create It: "Place a little bit of each nail color on a piece of wax paper. Then, use a sponge to transfer the color onto the nail," Shockman advises. To make the job easier, cut your sponge so it's just a little bigger than the nail. While the polish is still wet, finish with a clear topcoat to blend the shades.
Color Blocking (Photo: via Pinterest)
Need a new way to wear multiple shades at once? Instead of the overdone accent nail (one nail painted in a different color), play with two colors on each nail.
What You Need: Two or more nail polishes and clear sticky tape.
How To Create It: Paint the entire nail using the lighter of the two shades as your base. "Once the base color is fully dry, stick the tape to your hand before you place it on the nail, so it's not too sticky and won't damage the base," Shockman says. Next, paint on the second color using the tape as your guide. The best part about this design is that it's so versatile — horizontal, vertical or even zig zag.
Polka Dots (Photo: via Pinterest)
Need a quick mani, but want to spice up a polish? Just add some polka dots. Fun, but still chic.
What You Need: Two nail polishes and a toothpick.
How To Create It: Paint your nails with your chosen base color. Once that's dry, create dots: Dip the toothpick into the polish and dot lightly. If you want to get creative, Amy has a DIY project for you. "Use the head of a pin to create the polka dots. If you stick an eraser to the top of the pin, it becomes easier to hold and transforms into a great dotting tool."
What household items do you use for your nail art designs? And for more mani ideas, check out our Pinterest!