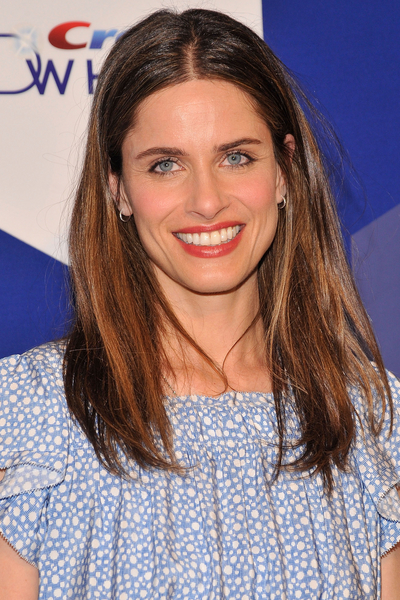 Photo: © Gary Gershoff/WireImage
In our dream lives, we'd all be able to spend the time we need to make ourselves look gorgeous every day. In reality, with all of our various responsibilities at home and at work, we barely have time to brush our teeth.
Amanda Peet feels your pain–the busy actress juggles her career and two young children, yet still manages to look beautiful without the help of her glam squad. The newest spokesperson for Crest Whitestrips sat down with us to share her top tips for looking gorgeous and the beauty craze she wishes she could try.
Amanda says she doesn't usually wear a lot of makeup, so she counts on longer-lasting tricks like white teeth and groomed brows to keep her looking presentable when she's pressed for time. "The new Crest 3D White 2 Hour Express strips are great because they really work and I can do it at the last minute, yet still be screaming at my kids to clean up their dinner plates. Like plucking your eyebrows or tinting your lashes, white teeth affects your overall look, right away. It's long-lasting, unlike makeup."
In addition to Whitestrips, Amanda says her beauty essentials are pretty basic. "A pink cheek is a great thing. I love CoverGirl Plumberry Glow blush. I like to feel natural, so I think that with a good Tweezerman tweezer and Elizabeth Arden 8-Hour Cream Lip Protectant on my lips than I am good to go. And, of course, a good night's sleep, otherwise I do look like a harried mom."
When asked what her biggest beauty dare would be, Amanda told us it would be to cut off her long locks. "I'm having a fantasy about cutting it off like I had it in the 80s, up on a wedge, but I think I'm too old. I want to cut it, but I feel like in three weeks I'll regret it and get really upset."


Try on Amanda Peet's hairstyles in the Makeover Studio!