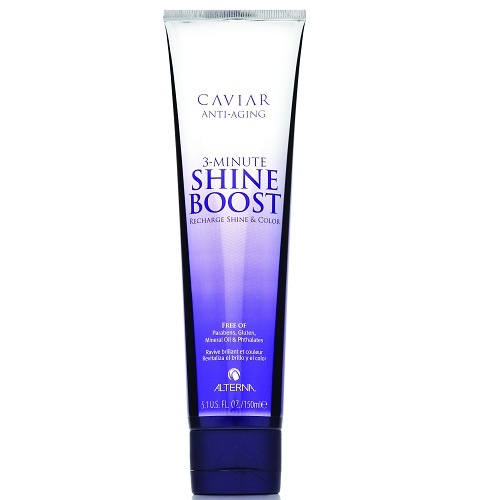 At Beauty High we constantly have new products crossing our desks and are always on the hunt for the next best thing. "The One Thing" is our way of sharing with you that must-have product that you need to introduce to your lives right now, whether it's from a drugstore or a department store.
As much as we don't like to admit it, summer can do major damage on our hair. Chlorine strips hair of shine and too much sun leaves hair brittle and dry– thus, we're constantly looking for ways to get our healthy hair back. Skip coating your hair with mayonnaise or dipping your ends into honey, Alterna Caviar Anti-Aging 3-Minute Shine Boost does everything you want without the smell or mess. In just three minutes your hair will transform from dull, fading colors to a full-of-life, glossy finish.
MORE: Hair Primer is a "Thing" Now, So Let's Talk About How to Use It
What Makes It Different: 
This treatment is rinsed out and lets newly refreshed hair shine through, unlike some leave-in products which create a greasy and weighed down look.
In just three minutes your hair is shiny and rejuvenated.
It seals the cuticle of the hair with a moisturizing layer that leaves hair smooth, bouncy and glowing.
Why It's The One Thing: 
Much like how lip gloss leaves your lips shiny and refreshed, this 3-minute shine boost adds an extra gloss to your hair. Colored hair looks fresh-out-of-the-salon renewed and all hair types are given a luminous look.
Where to buy: Alterna Caviar Anti-Aging 3-Minute Shine Boost, $26, Sephora.com