Last week I was running around the city like a mad woman. I had to go to Bendel's to get a gift for a friend's going away party, then I had a wax and then I was meeting another friend for a quick drink and finally I had to dash back to NJ for said going away party.
I zipped into Henri Bendel, made a quick dash for the Alex and Ani charm bracelets (if you don't know this brand already, get to know it) and made my way to the check out.
"You know," said the sales girl, "you only have to spend a few more dollars to get the extra special never going to be heard from again makeup/beach bag promotion we are having."
I mean. I'm not going to pass on an "extra special never going to be heard" from again makeup/beach bag promotion now am I? I started to look around the second floor for something to buy but really didn't want to put down $125 for a head band.
"Wait. I know the perfect thing you can buy!" chirped the girl. And she held up a tote bag. It took me a second to realize what was on it but when I did I guffawed and shouted, "That? Is amazing! I'll take it!"
"Excellent."
"Wait…erm…how much is it?"
It was under $50.
The bag is from the brand Thursday Friday and it is a tote that has the exclusive Hermes Birkin bag printed on it. I mean really. How genius is this.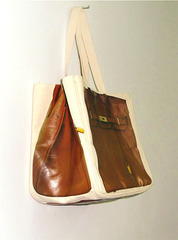 I decided to go with the camel option. I felt it was the most classic: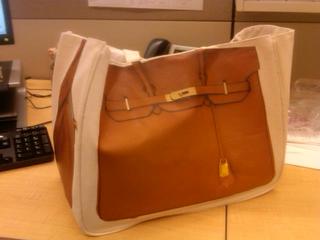 And as you can see the tote is huge. Plus, it has the photo of the Birkin bag on all sides: front back, bottom and the two gussets. Such a great find!