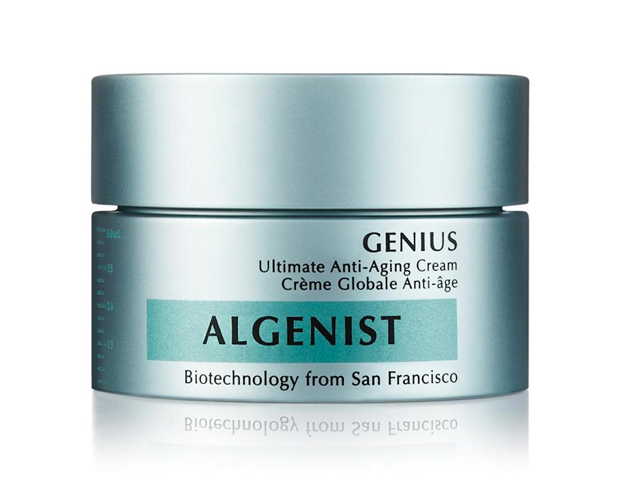 You know how you see the "bestsellers" and "most popular" products in beauty stores, so you of course scoop them up, but then you realize you have no idea how to work them? In "How It Works," we're going to explain to you exactly how to get the best use out of your products, whether they are cult classics or hot off the conveyer belt must-haves. We'll teach you the basics, as well as a few industry expert tips to make sure you're getting the most out of everything you buy.
Our skin is definitely at the top of our list of beauty concerns – we work to keep it clear of blemishes and sun spots, and master makeup tricks to ensure that it looks great (yet natural) day after day. So, whether you're 18 or 40, you know that anti-aging creams are not something to skimp on (or skip) in your beauty routine. When it comes to our face, we want everything to be wrinkle-free for as long as possible.
The skin care line Algenist is known for their top of the line products with real, scientific, backing. Their Genius cream is a luxe cream that provides a patented anti-aging breakthrough to give your skin nourishment and reduce wrinkles at the same time.
MORE: How It Works: Eve Lom Cleanser
Product Perks: 
Combing a formula of Alguronic Acid with a new source of nourishing oil, Microalgae Oil, this cream helps to restore skin's resiliency and elasticity while toning.
Genius delivers tighter and more toned skin while strengthening the skin's overall texture.
Plus, your fine lines and deep wrinkles will be minimized during the process.
How It Works:
After you wash your face (and apply a serum if you generally do) apply the cream to your entire face and neck. The nourishing Microalgae Oil combined with Alguronic Acid will brighten up your skin and tighten within the first couple of weeks of use.
Where to buy: Algenist Genius Ultimate Anti-Aging Cream, $110, algenist.com