Diana Vreeland is forever an icon of wit, style, beauty and glamour. The legendary editor of Harper's Bazaar and Vogue, the glorious mind behind the legendary column "Why Don't You…", the woman who set trends(denim and bikinis, anyone?), launched careers and singlehandedly reinvigorated the Costume Institute at the Met, Diana lived a beautiful, extravagant life and continues to inspire those who hunger for glamour at every turn.
And if theres one thing Diana loved, its perfume. Famous for pumping fragrance through the vents of her Met exhibits to set the mood, she believed that Scent is as important to a well-turned-out woman as her makeup, her nail varnish, her pearls. So it makes sense that her bold yet elegant spirit lives on in Diana Vreeland Parfums.They're luxurious, gorgeous, bold and funjust like DV herself.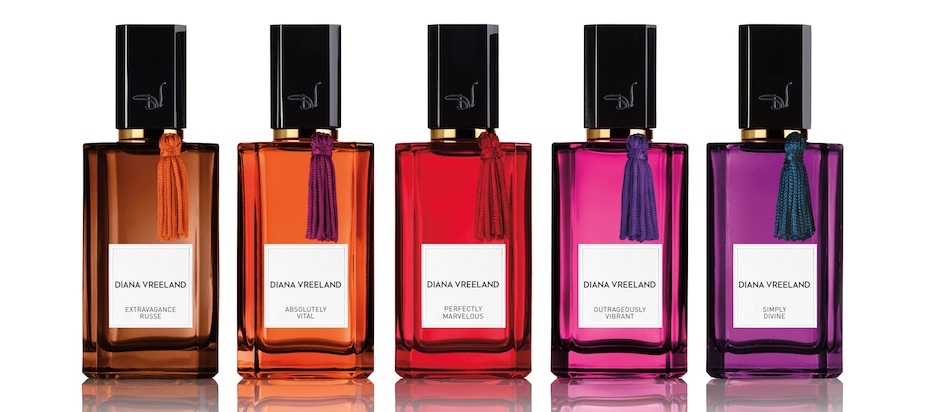 And the visionary behind this line? Alexander Vreeland, Dianas grandson. We talked exclusively to Alexander about fragrance, preserving Dianas legacy and being Smashingly Brilliant.
Alexander Vreeland is full of stories: about his grandmother, about his travels, and (of course) about perfume.
"I had a good friend who came in to try a couple of the scents," he told us. "He tried one and said Ah, thats beautiful! Then he tried another, and he said I cant smell this at all! So I tried it and went"I cant smell this at all! And it turned out, the bottle had water in it! Ive never tried to sell anybody a bottle of water before!"
Like his famous grandmother, Alexander's speech is full of passion, italics and emphasis. After thirty years in the world of fashion, he's now turned his talented hands to the world of beauty. And unlike other brands that capitalize on a famous name, he's determined to create a legacy of quality, uniqueness and luxury: a legacy, in short, that Diana Vreeland herself would be proud of.
"Five years ago, my father and uncle asked me to take over my grandmothers estate," he explains. "And in 2011, my wife (Lisa Immordino Vreeland) brought out a Diana Vreeland documentary called The Eye Has To Travel, which was really a turning point. All of a sudden, it became clear that the demographic that my grandmother was speaking to was much broader than we thought, and her message was just as vital today as it was in her time."
That message of creativity, uniqueness and boldness resonates even more strongly today. In a world of aspirational Pinterest perfection, there's something to be said for the people who dare to stand out. And in everything she did, down to her famous office at Vogue, Diana Vreeland definitely stood out.
The woman who Richard Avedon called "the only genius fashion editor" was infatuated with words, with color and with stories. Alexander wanted to remain true to that. "We were very excited about playing with colour and playing with words, because my grandmother was such a wordsmith," he told us, referring to Diana's famously expressive vocabulary (evident even in her editorial memos). "So we wanted to give fragrances names that only we could give a fragrance. And wed play with color; the interplay between the box and the tassel and the bottles luminosity, theyre all parts of that story."
The story of Diana Vreeland Parfums comes in six chapters: Simply Divine (sensuous tuberose), Outrageously Vibrant(lush gourmand), Perfectly Marvelous (spicy musk), Extravagance Russe (rich oriental), Absolutely Vital(warm sandalwood floral) and the newest fragrance, Smashingly Brilliant (fresh citrus). Each reflects a different facet of Diana's larger-than-life personalitywhich Alexander refers to as "the Diana Vreeland point of view."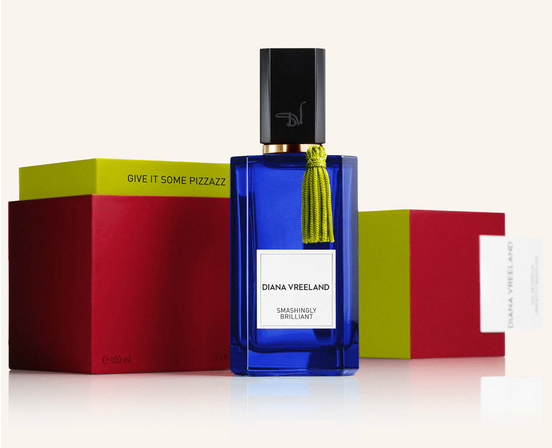 The latest in the line, Smashingly Brilliant, is an homage to DV's love of the island of Capri. "It's inspired by the light, the color, the springtime, the water, the ocean," Alexander told us. "Not only did [Diana] love to go to Capri and love the elements of it, she loved thepeoplethere. Her great friend, Mona Bismarck, who was one of the great beauties of all time, lived in Capri towards the end of her life. When Balenciaga closed his businessbecause in those days, designers didnt sell, they just closedand so when he closed, Mona locked herself in her room for days on end,because she couldnt imagine her life without Balenciaga."
The "story" of Smashingly Brilliant, then, is the story of glamour under the sunbut naturally, all glamour requires effort."Citrus fragrances traditionally don't last, because the elements dry out very quickly. You have to put it on every 45 minutes," said Alexander. "So we worked for about a year to develop a citrus that had the kind of long-term personality that we wanted to have under my grandmothers name. Smashingly Brilliant is 80% lemon and Calabrian bergamot, and it's very rare to have only two ingredients play such a high role in a fragrance. So youll find that when its on your skin, it LASTS a long time."
Smashingly Brilliant smells like the perfect spring vacation. The lemon and bergamot are immediately evident, creating a feeling of warmth and freshness as soon as you spray it on your skin. As the two notes evolve, they become quite warm and musky (instead of sugary-sweet), revealing hints of juniper and basil. There's a soft suede base, which balances out the optimistic citrus, and gives it an edge of sexiness and grown-up appeal. It's very Mediterranean and sophisticated, but still playfulexactly the way DV herself would have wanted it.
So what's next for the Diana Vreeland name? Alexander dropped some pretty major hints about the future of the brand. "We have a candle (Extravagance Russe), and more candles coming. We have a body cream,which we have a lot of trouble keeping in stock."And as for those rumors of a makeup line? Glory of glories, Alexander says they're working on it.
We were especially eager to find out if a Diana Vreeland red nail varnish, a key element of her signature look, would be coming out anytime soon. "There will, there will," he confirmed, laughingly. "That'sdefinitely a key part of the project. We have the concept, we have the packaging, but you dont want to do too much. You want to build what you have before you go to the next step."
Whatever that next step is, Diana Vreeland Parfums are a fitting tribute to a truly remarkable woman. We may not ever completely revolutionize the fashion world ourselves, but these fragrances will certainly inspire us to be Smashingly Brilliant every single day of our lives.
More from Daily Makeover: You're Doing It Wrong: Applying Perfume.