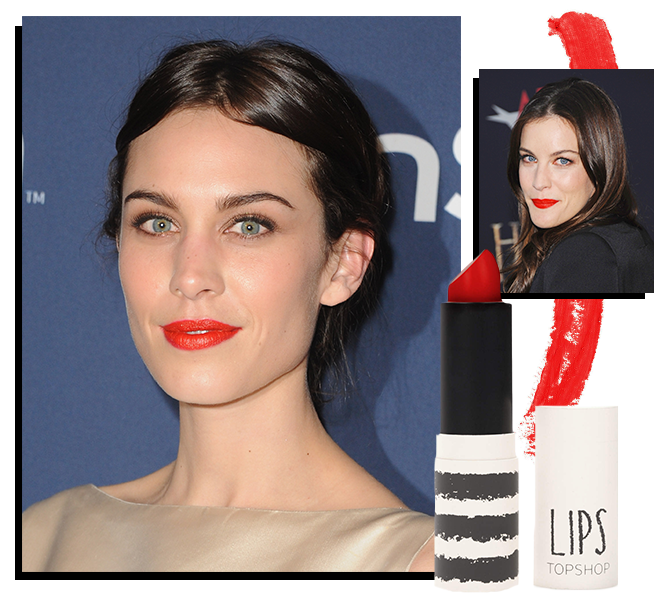 Liv Tyler and Alexa Chung have a few things in common, like preternaturally glossy hair and the flawless skin of baby angels, but I had no idea that they were friends. I'm talking actual friends, not just acquaintances—if you need proof, consider the fact that Liv casually calls Alexa "Chunginator." It's real. Really real.
Do you know what friends do? Friends exchange beauty secrets. Friends tell friends which new moisturizer they must buy, and what the best drugstore mascara is, and how they got their hair to look that way. So, when Liv Tyler saw Alexa Chung rocking an amazing orange-red lip color at an event, she asked her what it was, as friends do.
The lipstick in question? Topshop Lipstick in Rio Rio ($16, topshop.com), and not only is it both Alexa Chung and Liv Tyler-approved, it's just as fabulous for the real girl. The not-quite-neon tomato hue is fundamentally perfect, a pop of bright, semi-matte color that isn't eye-searing or inappropriate for daytime, and the creamy, hydrating formula rivals that of lipsticks three times the cost (yes, Tom Ford, I'm looking at you).
If the vivid shade's skin-brightening, teeth-whitening effects on Liv and Alexa aren't enough evidence that Rio Rio looks good on everyone, the first page of Topshop's reviews alone reveal that it's "perfect for Asian skin tones," the only red that suits a half-Persian reviewer with a yellow/olive complexion, and the "go-to" shade of a mixed-race ("think Rihanna") fan. With my cool-toned, paper-white skin and dark hair and eyes, Rio Rio is perfectly striking in that it doesn't make me look at all like a wayward clown, which many red lipsticks have a way of doing. In fact, I would say that it's my new default lip color. (I would say my new everyday lip color, but that would imply that I remember to wear lipstick every day, which would be a lie.)
While a celebrity thumbs-up is always encouraging, and a multiple celebrity thumbs-up even more so, this is a lipstick that would be worth purchasing even without the glowing endorsements… but then how would we have discovered it?
Read more: Find Your Perfect Red Lipstick