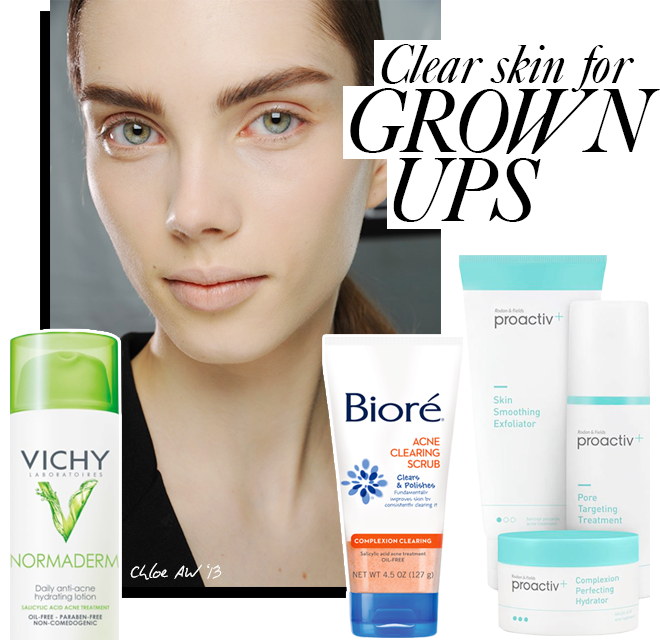 We may have left our "Rachel" hairstyles and braces behind, but most of us still have one thing in common with our high school yearbook pictures: breakouts. According to a 2012 study by researchers at Massachusetts General Hospital, 45% of women aged 21–30, 26% aged 31–40, and 12% aged 41–50 still struggle with acne. But if you've been dabbing the same acne cream on your pimples since freshman year, you're not getting the maximum treatment benefits. Adult skin is different than teenage complexions, and your regimen should grow up along with the rest of you.
We consulted with Dr. Katie Rodan, M.D., dermatologist and founder of Proactiv, to get the lowdown on why pimple fighters made for teens don't cut it for adult acne.
Why do adults need different acne products than teenagers?
Compared with teens, most adults with acne tend to have drier skin. As such, they need products that soothe and hydrate while treating their breakouts. Additionally, many adults need products that address their skin aging concerns, i.e. fine lines, wrinkles, enlarged pores, and uneven tone.
At what age should you switch to "grown up" skincare products?
Once your acne is under better control and you are noticing your skin becoming drier and/or starting to see signs of aging and sun damage, is the perfect time to change to a skincare system that is gently medicated and designed specifically for an adult complexion.
Acne Fighters For Grown Ups
Proactiv+ is a new line by the brand made famous by its as-seen-on-TV acne treatment system. "We created Proactiv + to meet the important needs of adult acne prone skin — clearing, exfoliating, hydrating and brightening," says Dr. Rodan. The three-step system's Pore Targeting Treatment contains 2.5% benzoyl peroxide to kill acne bacteria, an effective strength that's much gentler than the 5 or 10% benzoyl peroxide found in teen-targeted acne treatments. "We have encapsulated this medicine, allowing it to bypass the skin's surface and thereby lessen the risk of irritation," Dr. Rodan explanins. ($29.95 monthly for the system, proactivplus.com)
As skin ages, its renewal process tends to slow, leaving dead skin cells on the surface that can clog pores and cause breakouts. Bioré Acne Clearing Scrub ($7.49, drugstore.com) contains 1% salicylic acid and gentle exfoliating beads to keep pores clear. And since it's non-drying, it's safe to use daily.
Just because your skin is breakout-prone doesn't mean you should skip moisturizer — in fact, dried out, imbalanced skin can make acne worse. Vichy Normaderm Daily Anti-Acne Hydrating Lotion ($25, vichyusa.com) is an oil-free moisturizer that hydrates skin while salicylic acid, glycolic acid and LHA exfoliate dead cells and declog pores.
Read more: Break Out The Same Time Every Month? How To Stop Hormonal Acne