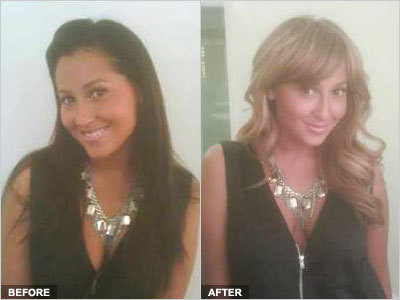 Photos courtesy of the Rita Hazan Salon
It seems Kristen Stewart isn't the only celeb switching things up for summer! The lovely Adrienne Bailon, formerly of The Cheetah Girls, stopped by the Rita Hazan salon to undergo her own summer makeover at the hands of celebrity colorist Adrian Wallace. Adrienne had dyed her usually light locks to a dark brunette while filming her new movie I'm In Love With A Church Girl. Once filming wrapped, she wanted to go back to the blonde look she loves. Here, Adrian gives us the exclusive scoop on how he took the pop star back to her roots and how to keep blonded hair looking fabulous all summer long. Check it out!
"The goal was to take Adrienne's hair 'light' again while still keeping her hair healthy. This was very tricky because when colored black, hair picks up different pigments, including reds and brown, in addition to the black. In order to get rid of these various colors, I had to use a process called modulating, which removes the color without stripping the hair. The most important part of the process is to keep the hair safe and protect it from over-processing, which can cause breakage and damage. The great thing about modulating is that it takes the place of bleach, so Adrienne's hair was left moisturized and healthy."
"With modulation, you never know how much color will come off the hair, so you always have to correct the color you're left with by doing a single process. I finished by adding highlights to create gorgeous contrasts and dimensions that automatically brightened her look."
To keep lightened locks looking fresh all summer long, Adrien advises protecting hair against damaging UV rays. "The more time she spends in the sun, pool, and beach will help to naturally lighten her hair even more, but she will have to remember to protect her hair from UV rays. There are sprays that have UV protection–I like Plage L'Originale Protective Beach Spray or Protective Sun Veil, both by Phyto," he says.
So what did Adrienne think of her blonde 'do? "It's like he splashed summer in my hair and now I want to call myself Goldie Locks," she said.
Do you like Adrienne's summer hair color makeover?