Remember the character from the Sex in the City movie named Louise? You know, the one who rented luxury handbags until Carrie finally bought her "her very own Louis Vuitton?" Well, the Loiuses of the real world are renting high fashion clothes too.
When I first heard of Rent the Runway, I was a bit skeptical. I wondered why someone would rent clothes that other people have worn already, and why they would ever want to return pieces they truly loved. It all seemed very "poser" to me, like women just wanting to don dresses that they could not actually afford in an effort to look like they had more money than they actually did. But I didn't want to be pretentious and judgmental, so when I heard that the popular website had opened a showroom in NYC, I had to check it out. I made an appointment (since that's the only way you can visit) and decided to take a whack at trying on dresses for my upcoming birthday.
Realted Article: The Perfect Summer Dress For Your Body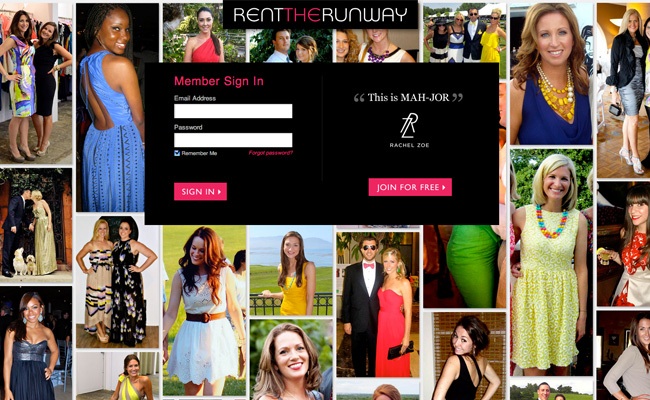 Nestled in Lower Manhattan on Varick Street, the location felt like a fashion clubhouse. As I buzzed the doorbell and stated my name, the whole ordeal exuded exclusivity—and I admittedly felt cool to be a part of the "in crowd." Stepping off of the fourth floor elevator, the showrooms door was cracked open and a gleaming, friendly face welcomed me inside. Her name was Emily, and she was one of two stylists that were on hand to select pieces for me. The showroom was small, but chicly decorated with racks of clothes, two large mirrors, a comfy couch and ottoman, and two computers for customers to place their orders. It was cute, yet practical for business.
Remembering the event I was preparing for, Emily said "Since it's your birthday, we want you to look HOT! You have to try an Herve," and then she was off on a mission to find the right color and fit. Returning with three dresses, she opened the tall curtain of the fitting room, hung them inside and invited me to "play dress-up." That was the perfect way to describe what happened next. I came out in the first dress and the second stylist, Chelsea, gasped, helped me zip it up, and said she loved it. Emily chimed in, assuring me that Herve Ledger's bondage dresses made for perfect birthday outfits.
It was really like a shopping day with your girlfriends—they help you pick out pretty clothes and flood you with yays or nays as you try them on. We discussed the fit of the dresses, what color shoes I could wear with them and what kinds of accessories would top off the looks. How fun. And how fabulous! Emily and Chelsea were really great at what they did; with just one look at me, it took just under 20 minutes for me to fall in love with one of their selections. There was another woman trying on gowns for a black-tie event in the showroom with me, and though her decision was not an easy one, Emily and Chelsea were attentive and accommodating to us both.
Realted Article: 5 Sexy Ways To Wear A White Dress
I found a lovely Herve Ledger dress, a Diane von Furstenberg clutch, a pair of earrings and a cuff bracelet—and I could rent it all for either 4 or 8 days for just $191. Not bad!
Giveaway Alert: Now you can experience the same luxury-for-less experience with a $200 Rent The Runway gift card. Even if you don't live in the New York area, you'll be able to order dresses online! To enter, tell us what occasion you're shopping for. We'll randomly select a winner this Friday, Aug. 17.