In my last entry, "The Before," I was telling the story of taking my lovely model, Sarah, from a so-so red to a devastating bombshell. I was inspired, but if you can't tell by the look on her face, Sarah was skeptical – to say the least.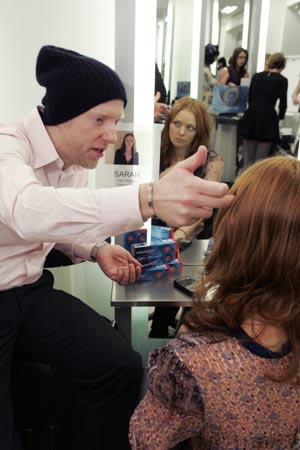 The Consultation Begins
When Sarah and I first started our consultation, she said, "I only want my roots done and a trim." I said, "You know you're a model for a hair show with a before and after right?" Well, needless to say we were coming from opposite corners on this one. I wanted to make a major statement and she wanted a natural look. I had to figure out a way to make us all (me, Sarah, her agent, Wella – the sponsor of the event – and the magazine editors attending the reveal/cocktail party that night) happy. This is where the skill of the consultation comes in.
There is nothing more important than a good consultation, because it'll ensure your expectations are met and sets a definite plan with your colorist. From my point of view, there is nothing more scary than the woman who says, "You're the expert – do whatever you want," because beauty is way too subjective (and personal) for that. What I think is amazing, you might find hideous! I have narrowed a successful consultation down into just a few simple questions. Remember them for your next consultation and you'll get what you ask for!
1. What do you like about what you have now?
2. What do you dislike about what you have now?
3. Do you want your color to whisper, talk or scream?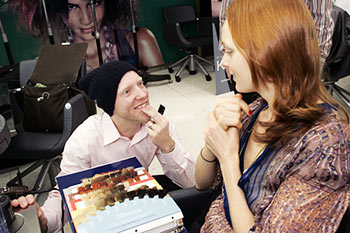 A Mutual Vision Develops
In addition to these questions, you need to do some homework. Have images of colors you like and colors you don't like (pictures of celebrities, your dog – even food), because it's difficult to describe a color – a picture however says a thousand words. Even if you don't know what you want, you absolutely know what you don't want – make a short list of those things. Know how much money you are comfortable spending. Think about how frequently you want to have your color done – are you an every-three-weeks kind of gal or a three-or-four-times-a-year kind of gal?
Ok – so I sat down with Sarah and started talking and talking and talking. I even brought out a swatch book, which I usually only use as a last attempt to get my point across. Eventually we found a common ground. Initially, I wanted a really vibrant color like Marcia Cross or Kate Elson. But after the consultation, we were both feeling something a little softer, a little sexier and a little bit more girly – sort of Anne Margaret-ish.
Gorgeous!!! I'll show you the result in my next post.
Have you had a difficult consultation or maybe some consulting tips to share?
LMK – Jason