There's nothing I love more than being able to help someone feel better about themselves by giving them a new look. Marie Claire asked me to come in and help transform the beautiful Ashley Falcon, who writes a column called "Big Girl in a Skinny World." The theme of the piece was using hair and makeup to look slimmer, so here's what I did!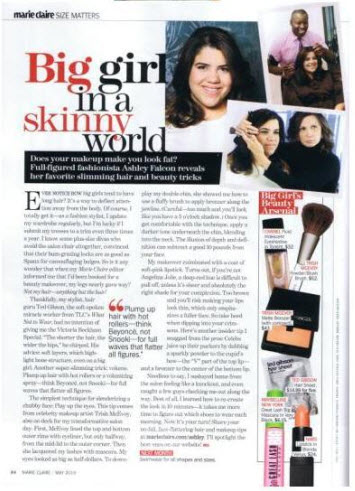 Ashley's hair was dark brown to start. After some convincing, she allowed us to color it. Jason, who writes HUEman Behavior, did the amazing highlights. The color change makes it sexy, yet also youthful and grown-up at the same time.
Next, I cut her long hair from middle of her back to just below her shoulders. It was important that she go through the process of changing her look. She was a 20-year-old girl getting her first professional makeover; we wanted her to have a before and after!
For the photoshoot, we went without the wind machine. To get Ashley looking fierce, I styled her hair using a blowdryer, a large barrel curling iron, Build It, Hairsheets Styling, andBeautiful Hold Hairspray.
I think she looks absolutely gorgeous! How about you?