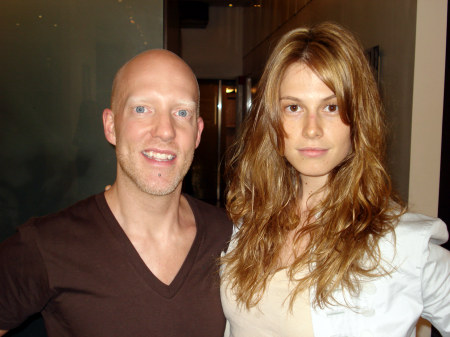 I was so excited!!! My dear friend Elettra Weideman was in the Ted Gibson Salon not too long ago and said she wanted to make her hair red!!! I had colored her hair red about six years ago and we loved it. She looked amazing! Okay, let's be real: She wasn't chosen to be a Lancôme spokesmodel because she doesn't always look amazing–but I think the red hair color we were doing years ago did have a special little something to do with it.
When she came in for her appointment a week later, she had disappointing news. All right not THAT disappointing–Lancôme had planned a photo shoot for her and they wanted her to be blonde, not red. Needless to say, I scrapped my plans and started a new vision. I wanted something soft and pretty, but at the same time, bold and sexy. I went for a full head of medium and dark blonde highlights and then followed that up with a re-highlight of bold, pale blonde ribbons to give it dramatic movement and sparkle.
She loved it, I loved it, the folks at Lancôme loved it! Do you love it? LMK!