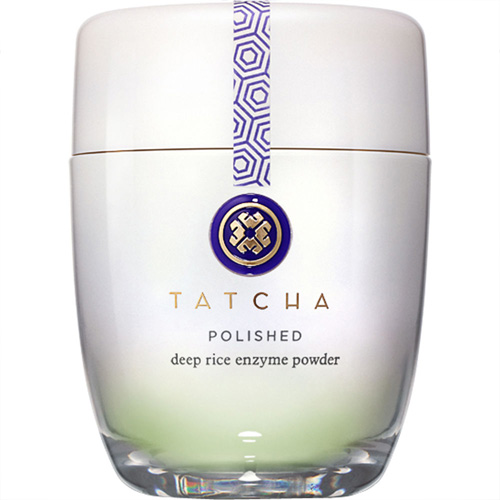 Some of the biggest beauty trends in recent memory (BB creams, anyone?) have originated in Asia, which is way ahead of the West in the skincare game. "Korean women, on average, use 26-27 steps in their beauty regimen, versus American women who only use six to seven," says Global Aesthetician and Skincare and Beauty Expert for Korean skincare brand Amorepacific, Dana Nicolette. What is it that these women know about beauty that I'm missing? I went in search for some of the best Asian beauty secrets to learn how to incorporate them into my current routine.
1. Brush your skin.
While Francine Gingras, VP Global PR for Elizabeth Arden, lived in Japan as a teen (she grew up in Canada), she learned the importance of brushing her face every day with a soft-bristled brush. Gingras, who continues the ritual even today, says it is responsible for keeping her skin toned all these years. It's also said to help prepare your skin, so the serums and creams you put on actually sink in. It seems Americans have caught onto this trend; now almost every beauty buff owns a Clarisonic or a similar face-cleansing device.
2. Slap it on.
Gingras also learned a very specific way of applying moisturizer (today she opts for Prevage Anti-Aging Moisture Cream Broad Spectrum Sunscreen SPF 30 ($129, elizabetharden.com)) and makeup. She starts from the bottom of the chin and applies it going up, so her forehead is the last part of the face to be covered. And instead of rubbing product into her face, she slaps it on, another tip she learned from her time in Japan. Most surprising is that Elizabeth Arden herself had a machine with spoon-looking objects attached that gently slapped cream onto women's skin, and that was 102 years ago!
Esther Dong, senior vice president of sales and marketing for Korean skincare brand Sulwhasoo, says that women in Korea also believe in slapping their faces to stimulate circulation and elevate the energy level of the skin.
"They do this seriously and with considerable consistency," says Dong. "Don't be surprised next time you travel to Korea and see Korean ladies padding their face with force in the washroom. To them, it is so important that it should not be missed, even when they are on the road."
3. Make SPF a priority.
Another huge skin care consideration in Korea is sun protection.
"Have you ever seen pictures of an Asian lady with an umbrella under a clear sunny sky?" Dong asks. "Keeping away from the sun is skin care 101 in Asia."
Whether you use a foundation with built-in sunscreen or you opt for a stand-alone product, like Sulwhasoo Age-Veil UV Protection Cream ($70, sulwhasoo.com), make sure to protect your skin, no matter the weather.
4. Hydrate throughout the day.
"Asian women hydrate often throughout the day, and lightly mist facial sprays over the face to refresh their foundation post lunch," says Nicolette.
Facial mists are starting to catch on in the US, so try Amorepacific Moisture Bound Skin Energy Hydration Delivery System ($35, sephora.com). It was created with bamboo sap to keep skin hydrated for up to 8 hours.
5. Make sure to polish your skin.
Victoria Tsai founded skincare line Tatcha after discovering a 200-year-old manuscript that described the daily beauty regimen of a Japanese geisha. She based her products on traditional geisha beauty secrets. One example: Instead of cleansing, toning and moisturizing the skin, like many of us do, a geisha's routine would include polishing, brightening and moisturizing steps. Tatcha Classic Rice Enzyme Powder ($65, tatcha.com) exfoliates without harsh abrasives.
6. What's good for your body is good for your skin.
"When you want your body to be healthy, you seek out unprocessed, nutritious and natural foods," says Tsai. "The same goes for your skin."
Green tea, ginseng and kimchi are all ingredients that are often infused in Korean skin care. Dr. Jart+ uses these key ingredients in their Detox 02 Cleansing Foam ($24, sephora.com), Renewalist Melting Cream ($38, sephora.com), and their Waterfuse line.
Tsai also points to a home remedy from Japan, in which some women save the cloudy water used when washing rice to wash their faces, giving their skin a youthful glow.
7. Opt for an oil, instead of a cleanser.
While "oil-free" products rule in the US, oil-based skincare is a popular category in many parts of Asia. "Cleansing oils work so well because oil dissolves oil — makeup, sunscreen and sebum literally melt away when you use a cleansing oil," says Tsai. " The trick is to use one without mineral oil so that it doesn't break you out or leave residue that you have to use another cleanser to remove. Had I discovered these earlier in life, I think I would have saved myself a lot of breakouts and dry patches long ago."
For a cleansing oil that doesn't contain mineral oil, try Boscia MakeUp-BreakUp Cool Cleansing Oil ($26, sephora.com).
8. Don't underestimate a good facial.
"Korean women spend a large sum of their dispensable income on facials," says Dong. "Beyond indulging in high-end beauty products that deliver great results, they also go to the spa every other week!"
The spa tradition in Japan goes back hundreds of years. "Geishas used to use a complex device called an alchemical still to capture the essence of botanicals," says Tsai. "They would boil water underneath beneficial flowers or leaves, then capture the steam on a swatch of kimono silk. This silk was applied to the face for a nourishing mask, long before masks became known to the wider world."
Do you incorporate any of these secrets into your daily routine?