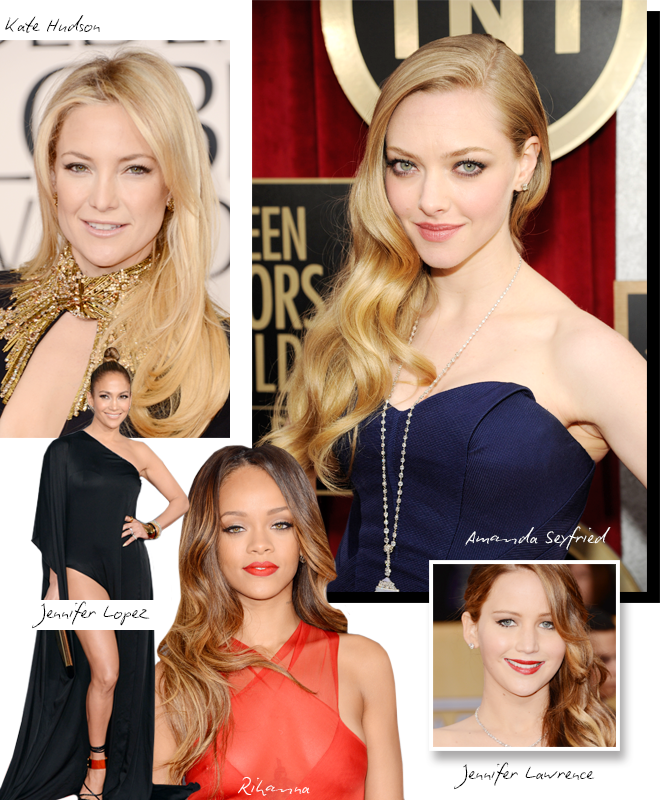 The Oscars are Sunday night, so if you're looking for a self-esteem boost, you likely won't find it. A-listers show up to red carpet events looking so polished and put together, it makes us want to cry into our Oscars-themed appetizers. Turns out, though, that a lot of this celeb flawlessness is nothing more than clever makeup tricks. Our favorite makeup artists spilled the creative ways they fake red-carpet perfection.
1. A-List Shine
Ever notice that no matter how many hot oil treatments or serums you try, your hair never quite looks as shiny as, say, Amanda Seyfried's? Hollywood beauty pro and esthetician Scott-Vincent Borba says the reason lies in one his most trusted red carpet beauty secrets: "I will take ultra-fine glitter powder and mix it with hair spray, then I'll use this mixture when styling." The lights and cameras pick up the sparkle so viewers at home are left with major hair envy.
2. Glossy Lips
Ever notice how celebs have shiny, glossy lips, yet never seem to get hair stuck to their lips? Bruce Grayson, the official makeup artist at the Oscars, says he taps shimmer pigment in white, yellow or gold on the inner lips with a slightly damp Q-tip to give that wet look without actually using gloss.
3. Bigger And Better Hairstyles
Whether they wear it up or down, celebrities always seem to have more hair than a Dallas debutante. Though most of the time it isn't natural (extensions and hair pieces are used in abundance), it's hard for viewers at home to tell. Scott-Vincent says he uses Toppik Hair Building Fibers to conceal extensions, as well as any scalp that might show through thinner hair.
4. Picture-Perfect Makeup
Scott-Vincent keeps celebs' makeup looking matte, not caked by dipping a makeup brush in moisturizer, removing the excess cream, and then dipping it into powder before applying it to the skin. This offers coverage and shine control without giving skin a dry, powdery look.
5. Flawless Figure
St. Tropez Skin Finishing Expert Fiona Locke sees a ton of A-list clients, but it's not always a tan they're after. For dresses that show off the arms, Fiona says she uses tanner under the tricep muscle to make actresses look more toned.
6. Pearly Whites
While most stars probably hit up their dentist's office before awards season, not all of them have the time. "If celebrities don't have time to whiten their teeth, but want a sparkling white smile, I'll use a red lip stain on the gum line," says Scott-Vincent. "This instantly makes teeth look whiter."
7. Bright Eyes
We've heard of putting frozen teaspoons on the eyes, but this tip is new to us: "To reduce puffy eyes, place an ice cube on your tongue and hold it to the roof of your mouth for ten minutes," suggests Scott-Vincent. This method results in eyes that look refreshed and bright.
8. Instant Facelift
Botox isn't the only way to get a pre-red carpet boost. Some hair stylists place tiny, hidden braids at the temples and pin them back tightly to pull their famous clients' facial skin taut, giving the look of a mini-facelift, says Pantene Celebrity Stylist Danilo.
9. Glowy Goodness
Stars are subject to thousands of photos during a red carpet event. To give skin a supernova glow, cosmetic dermatologist Dr. David Colbert suggests applying two drops of any argan oil to foundation before applying. This trick helps evens out light reflectance from the skin, so photos look flawless. Read more: