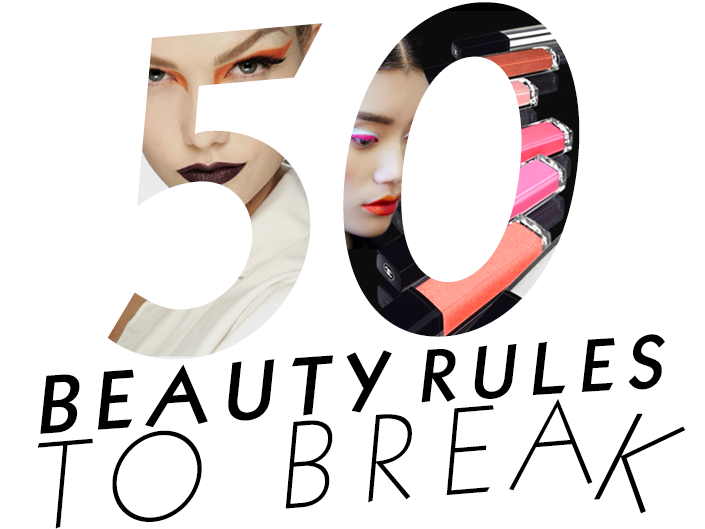 We all tend to unconsciously live by a self-taught set of rules, buying new products that fit the bill and staying within our comfort zones. Unfortunately, that can get a little boring, especially because today's makeup is all about freedom, experimentation and finding what works for you. Keeping that in mind, we didn't want to give you the same over-covered, outdated "redheads can wear red lipstick" advice that you've seen before. Hot off the presses, instead we took a look at everything from runway looks to '90s revivals to find out where the industry's headed, conventional or not. Beauty waits for no man's rules, so here are 50 to break.
1. Brown eyeshadow is just for the blue-eyed: While brown shadow does bring out aqua irises, olive browns flecked with gold look great on pretty much everyone.
2. Bangs aren't for curly girls: Though curls and short bangs don't usually mix well, curly-haired celebs like Beyonce, Taylor Swift and Vanessa Hudgens prove that long, layered bangs are completely doable.
 3. Only use lipliner inside your lips: This one's a fine line to walk, but makeup artist Lisa Butler drew lipliner in "a quarter-inch line under the center of the lower lip, up the middle, on the Cupid's bow, and just at the corners of the mouth" at Emilio Pucci's fall 2013 show to gorgeous effect.
4. Water is the key to glowing skin: Although it can't be bad for you, don't feel like you have to chug water to get a glow; scientists say that skin doesn't actually react to increased water consumption.
5. Don't go to sleep without taking off your makeup: For the perfect eye makeup look, Lou Dillon passed on this tip from mom Jane Birkin: "She taught me to put on black eye makeup before going to bed, so it looks all smudgy and beautiful in the morning."
6. Brushing your hair makes it healthier: Not for curly hair, at least! Put down the brush, and consequently step away from the frizz. Brushing dry hair is fine for the straight-haired, but curly and wavy girls should use a wide tooth comb in the shower for defined, tangle-free strands.
7. Brushes are best for putting on makeup: Makeup artists often use brushes for a flawless finish, but for the rest of us, applying foundation and eyeshadow with fingers helps to warm up the product for a more natural result.
8. Contouring is outdated and obvious: The original contour look wasn't the most subtle, but time heals all wounds: today's contouring looks natural and slyly elevates your bone structure (just ask the Kardashians).
9. Start styling with clean, freshly washed hair: One or even two day-old hair lends effortless texture to most buns and braids, drying salt sprays unnecessary. It also holds the style better, letting you go easier on the hairspray.
10. You need shampoo to wash your hair: Suds may feel satisfying, but showering shampoo-free  is often better for delicate or curly hair. Baking soda and apple cider vinegar offer other cleansing options, and are especially great for those with dry scalps.
11. Define lips with lipliner to help lipstick last: Sure it still works, but I think we can all agree it feels outdated. Instead, skip the lipstick and fill your pout in with lipliner, then top with lip balm—you'll get all the lasting power, and it'll look more natural (and feel less high maintenance!)
12. Don't let roots show: With ombré roots a bonafide trend, it's a wonder root disguising products are still in business. Embrace the visible change, just don't let it get away from you. The world's not ready yet.
13. Whether you have warm or cool skin, only wear makeup within those color families: While generally a good rule to live by in terms of foundation, don't limit yourself to just one color family. You never know, a cool eye on warm skin could create just the right amount of contrast.
14. Hairspray is just for hair: If you're short on eyebrow gel one morning, try spraying a bit of hairspray onto your finger or a toothbrush, then swipe it over brows for long-lasting hold.
15. Only apply blush to the apples of your cheeks: In fact, makeup artists recommend blush wherever you would naturally flush. For most of us, that means a bit on cheeks, across the bridge of your nose and just a touch on your forehead.
16. Bright eyeshadow screams "stuck in the '80s": A one-note wash of bright color on lids, whether it's blue, purple or lime, looks fresh paired with an otherwise natural look. Just be sure it's a modern formulation—chalky shadows date easily.
17. Wash your hair everyday: It's best to have some natural oils present to keep your hair and scalp healthy. Ironically, washing hair too often can quickly dry it out.
18. Your hair and eyebrow color should match: Blondes with matching eyebrows look summery and sunkissed, but almost everyone looks better with some slightly-darker definition around their eyes. Miley springs to mind, as does Blake Lively.
19. Bangs look best at eyebrow length: They look good there, but feel free to experiment! Betty Page, Carla Bruni and Bella Heathcote style-bangs always look great.
20. Hair needs a trim every six to eight weeks: Maybe if you have bangs or are trying to grow a cut out, but otherwise, there's no real need for such frequent salon visits.
21. Got oily skin? Stick to oil-free products: As you've probably noticed, face and body oils are having a moment. Caudalie's Divine Oil has gotten high praise, but regular old jojoba oil will do the moisturizing trick without clogging pores.
22. Apply face makeup after you finish your eyes: This still applies, but before eye makeup, try applying a thick layer of translucent powder—wiping it off afterwards will take any stray eyeshadow with it.
23. Don't pop your zits, no matter what: Popping pimples is never going to be great, but judging by the number of after-pop products now available, there are worse things you can do.
24. You should exfoliate your skin every day: Nothing beats the soft, clean skin you get after exfoliating, but experts actually don't recommend using exfoliators every day—every other or every two days is enough, and less irritating to skin.
25. Bronzer is just for your face: If it's good enough for Rosie Huntington-Whiteley's abs, it's good enough for our abs ("abs").
26. Don't mix metals: Common sense dictates that you should stick to either gold or silver makeup, but try mixing them for a futuristic, unexpected look.
27. Hairstyles should be neat: Messy braids and buns look effortless and are thus way chicer than their straight-laced equivalent. See for yourself.
28. Dryer sheets are just for the laundry: Rubbing a dryer sheet over frizzy hair can remove static, and save you a whole load of trouble.
29. Nails should be chip-free at all moments: While a perfect manicure is pretty, a few chips make it look lived in and grungy, perfect for riding the omnipresent '90s revival.
30. Coconut oil is just for the kitchen: A healthy substitute for fattier cooking oils, coconut oil pulls triple duty as a body moisturizer and hair mask; leave it on half and hour before showering for a deep conditioning treatment, or rub some in after showering for baby soft skin (just avoid your face—some dermatologists say it's comedogenic).
31. Gray hair should be covered up: More and more celebs are going gray for the fun of it, like Kelly Osborne and Rihanna, and we've got to say, it doesn't look bad. We actually quite like it.
32. White eyeliner brightens up your eyes: This one's a bit funny, because while the rule works, it's so ingrained that most people don't realize that nude eyeliner is even better.
33. Make the perfect cat-eye flick by pretending to connect the edge of your eye and end of your eyebrow: Another funny one, because while that's a good general tip, try experimenting with the liner shapes you create. Graphic eyeliner is still looking big, with interesting takes at both at Acne and Christopher Kane for spring 2013.
34. If you want to fight wrinkles, it's prescription creams or bust: For many women, over the counter retinoids are enough—they're essentially a lower-dose version of Retin-A, without the sensitizing side effects.
35. Eye color designated sets are for those eyes only: Nope! Everyone's unique eye color differs, so what looks great on hazel eyes could look even better on brown.
36. Purple eyeshadow should be kept in the '90s: Today's incarnations are subtle, nuanced and complex—everything we look for both in a date and an eyeshadow, give or take the unhappy past.
37. Lipstick on cheeks is a recipe for sticky disaster: Not so—glossy, moisturizing lipsticks are your best bet, and often look more natural than powder blush.
38. Only follow your natural shape when filling in brows: While generally good advice, it's always fun to try a new trend. Try a shape like Cara Delevingne's and you never know, it could really work.
39. Don't mix scents: Watch out with the more complex fragrances, but plenty of people mix one note scents to create their own unique, one-of-a-kind blend.
40. Only use highlighter on your cheekbones: From the bridge of your nose to the inner corners of your eyes, highlighter should be able to light up plenty of nooks and crannies on your face.
41. Concealer should be slightly lighter than skin: Instead, try one that's just your skin color. It's an urban legend that it should be lighter, as that actually just draws more attention to the blemish, and that's the opposite of what we want.
42. Saltwater spray is huge right now, but only a few brands really work: That may be true, but it's also the easiest product to make yourself, using the myriad of recipes available.
43. Men's products are only for the boys: If you're willing to overlook the somewhat masculine packaging, many guys' products are made to be more undetectable (we've all seen someone accused of wearing "guyliner," and the defense isn't pretty). Kiehl's Facial Fuel No-Shine Hydrator, especially, is a good moisturizer and mattifier in one, something we've been looking for forever.
44. Don't use frosted lipstick: Paired with bronzer and lightly defined eyes, frosted pink lipstick finishes a look perfectly. It's definitely a statement, as anything is after it's been out of style for a long period.
45. Don't wear makeup to the gym: We're in favor of you doing whatever makes you feel good, so if that's working out with mascara and eyeliner, so be it. Try to stay away from foundation though, as that can clog your pores.
46. Don't line your bottom lashes: Some claim that it drags your eyes down, but it all depends on what kind of look you're going for—with a light touch, liner on the bottom lash line is great for achieving a sophisticated, edgy tone.
47. Shaving cream is best for preventing nicks: It's cornered the market, but anything that gives your skin some slip works—we've had particular luck with Herbal Essences Drama Clean shampoo, which left our skin even silkier than shaving cream did.
48. Dark lip and nail colors should be saved for the winter: Burgundy nails are having a moment, as are dark, dramatic lips. And we've got to say, it feels nice doing something other than summer brights.
49. Red eyeshadow is only for Halloween: Most people treat it like it's taboo, but blending a pink or red eyeshadow with a bronze one will amp up the look while keeping it slightly relatable.
50. Eyebrow pencils are the tried and true best method: While eyebrow pencils are great for on the go, they usually come in limited colors. Instead, try an eyeshadow applied with an angled brush—they come in wider range of color options, and you're able to better control the color match.
More From Beauty High:
101 Beauty Tips Every Girl Should Know
10 Beauty Myths We All Fall For
Nail It: 101 Seriously Amazing Nail Art Ideas From Pinterest