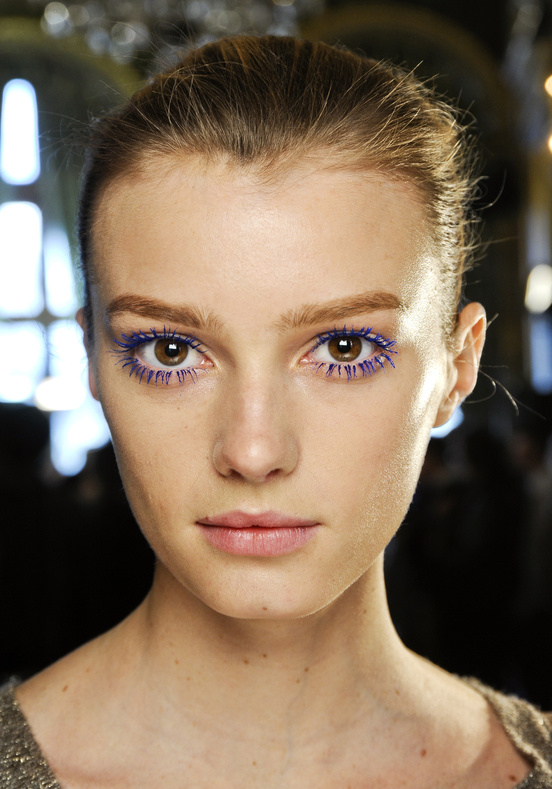 In an effort to turn my winter blues upside-down, I am looking forward to the sunny days of spring and the beauty that goes along with it. I am feeling a healthy, glowy complexion, full of radiance and dewiness and a bright, colorful eye. Why not surprise your lashes this season with something fresh? I am talking about colored mascara! Does that sound intimidating? It shouldn't. With so many colors to choose from, you are certain to find something just right. And when you know how to wear it right, all eyes will be on YOU. Lucky for you, I have nailed down the how-to on spring's newest trend, colored mascara.
1. Pick a color that is right for you. Blue (I like Eyeko Black Magic Mascara in Midnight Blue) is the most universal color and will look great on almost everyone. Plus, it makes the white of your eye, whiter. Purple formulas are the next best option and flatter those with green or blue eyes, (try Dolce & Gabbana The Mascara Volumized Lashes in Dahlia). Brown eyes will pop with a tint of green, similarly with those who have hazel/green eyes. Be careful though, a little green goes a long way in this case, so try a few swipes on top of your usual black mascara, (check out Make Up For Ever Smokey Lash in Green). Red, maroon and pink versions are the least versatile when it comes to colored mascaras, and are recommended for the bravest of beauty girls. I have green eyes and actually live by Maroon mascara as it gives me a subtle Vampire-esque, downtown, cool girl look – I love Chanel's Inimitable Intense Mascara Multi-Dimensionnel Sophistiqué in Rouge Noir.
2. Keep the rest of your eyes bare, and let your lashes do the talking. Choose your favorite shade and apply on the upper and lower lashes. Simply wiggle the brush at the base of lashes, and sweep upward in long, lifting strokes for a perfectly plush, sophisticated look. Don't forget the corners of your eyes, focusing on this area gives you that cat eye. You can add a little luminizer to your lids for extra glow, but otherwise, keep things simple. You must try RMS Beauty Living Luminizer. Add a little gloss, such as one of my favorites, By Terry Rose de Rose Balm, to your lips and you are good to go.
3. Focus on your complexion and perfecting your skin. Make sure you use a facemask at least once a week to brighten, tighten and hydrate. I love Tata Harper Resurfacing Mask for weekly use and Skin Ceuticals Clay Mask before I go out at night. Nothing looks better with a bright eye than perfect skin. Mix in some brightening foundation with your moisturizer for a seamless application, like Dolce and Gabbana The Foundation, and pop on Nars Creamy Radiant Concealer under the eye and around the nose.
4. Be low-key. For something a bit less intense, apply mascara to only the top lashes, and leave the bottom lashes bare or supplement with your trusty black mascara.
5. Customize. Use your colored mascara as the 'final step' in completing your look. Layer, (my favorite is Diorshow in Royal Blue) over any other mascara for customized, couture lashes. Layer only on your top lashes for something more subtle.
Image via Imaxtree
More From She's In The Glow:
Prep Party in 7 Days
"No Makeup" Makeup Routine
The Nude Moment