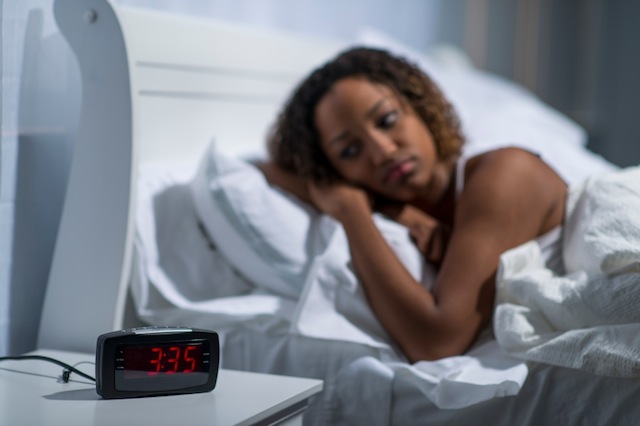 All-nighters come in all shapes and forms — fun, sexy, and otherwise. End results are often the same though: You look as terrible as you feel. Since the day that follows is often just as packed as the day  before, you have no time to waste on looking or feeling terrible. We reached out to some of the best and the brightest in the business to find out how to cover up a sleepless night – so no one will be the wiser.
Take a Deep Breath
"Breathe deeply to send oxygen to the brain. For a quick pick-me-up, inhale an essential oil or aromatherapy you love," says  HollyBeth Anderson, the organic alchemist of USDA Certified Organic skincare line HollyBeth Organics. Peppermint is a great option to awaken the senses.
MORE: 10 Essentials For: Faking a Good Night's Sleep
Let's Spoon
"Chill 2 small spoons in the freezer or run them under cold water, and then cup them over your eyes for a relaxing 5 minutes," says  Jasmina Aganovic, CEO of Bona Clara, an organic, all-natural skincare and beauty company. It's the cooling aspect of the spoons that help to refresh your eyes, so sliced cucumber slices, chilled tea bags, even frozen veggies are also fantastic options.
Start With Some Morning Fuel
Always hydrate first thing, but opt for a green juice, not coffee!  "Chlorophyll (the green pigment in plants) will oxygenate your blood which will help give your body energy and allow your brain to function at its highest level. Add some ginger to your juice for a real kick!" says Dr. Gary Goldfaden.
MORE: Cheap Trick: Maybelline Dream Lumi Concealer
Brighten, But Naturally
"To look bright-eyed and fresh, use a white or pearl eyeliner on the waterline of the eyes to eliminate any redness," says celebrity makeup artist Napoleon Perdis, who created his Eye Bright Inner Rim Liner specifically for this purpose. The soft  pearlescent shade gives eyes a naturally fresh look, and the creamy  formula is designed to stay put on the waterline. Perdis says to avoid wearing shades of green on the eyes (including olive) in eye liners and shadows as the green emphasizes redness.
A common mistake with concealer on puffy eyes is going too  light in color. "A concealer that acts as a highlight can actually emphasize puffiness," says Perdis. To eliminate the appearance of puffiness, use a  concealer that is the same color as your skin tone, or slightly deeper.  Follow suit with eyeshadows.
Mascara Always
"I always say mascara first because it is the wake up call for your face," says Perdis. Adding this instant definition gives direction  to the rest of your look, especially when you need some extra motivation.
Image via Istock